Leicester Riders: Paternostro praises Sharks display
Last updated on .From the section Basketball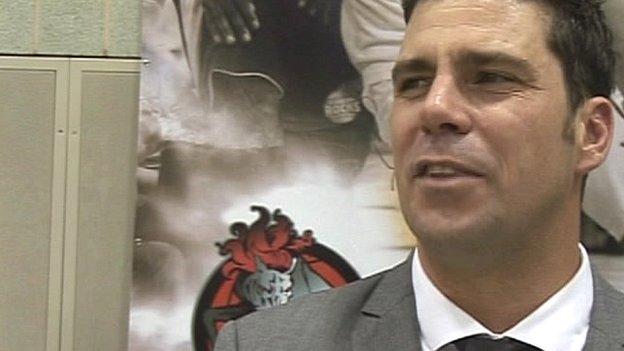 Leicester Riders coach Rob Paternostro says Sheffield Sharks were the deserved winners in Saturday's BBL Trophy final.
"The Sharks were better for most of the game so full credit to them," Paternostro told BBC Radio Leicester.
"They made lots of early shots which got their confidence going. Some people said it'd be one-sided but we knew that wasn't true. They're a talented side."
It was the sides' fifth match-up this season with Leicester having coming out on top three out of four times.
But American guard BJ Holmes led Sheffield to victory by scoring 25 points, including five three-pointers.
"In the cup final [victory over Newcastle Eagles] we had [Jay] Cousinard making all the plays, today they had Holmes and that's the way it goes in these one-off games," Paternostro continued.
"We've now been in two finals and we were so close to winning this one but give Sheffield the ton of credit they deserve.
"With a minute left we had the ball and more times than not we get the job done from there. We made some critical errors and couldn't do it this time but we'll come back from it for sure."