Rob Paternostro: Leicester Riders close to BBL title
Last updated on .From the section Basketball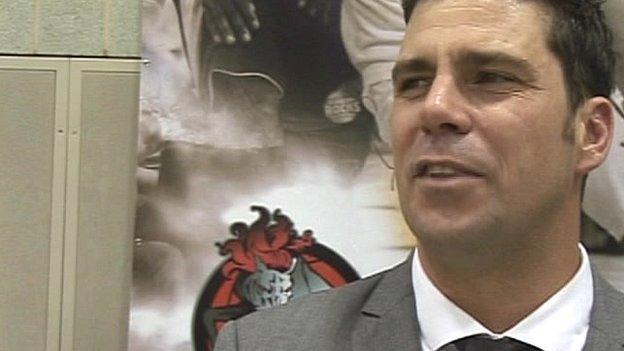 Leicester Riders coach Rob Paternostro is confident of securing the British Basketball League championship after a 80-69 win against Newcastle Eagles.
The Eagles are now eight points behind the Riders and have lost all three meetings in league and cup.
"It was a really big win with them being right behind us in the table," Paternostro told BBC Radio Leicester.
"Now with [winning] the season series, we know if we finish in a tie with them we get the championship."
Victories at the Newcastle Sports Central and at the John Sandford Centre have ensured a season series for the Riders, and completes the BBL set against every club in 2012-13.
"An old friend of mine said the way to be a good team is to win the season series against everyone, and we've done that," he added.
"The consistency we've shown throughout a trying season has been important, but there's a long way to go.
"We have to understand that, get healthy and finish the job off."
Although beaten by Sheffield in the BBL Trophy final earlier this month, the Riders are on course for a treble of League, Cup and play-off success this season.