Miami Heat beaten by Chicago Bulls to miss NBA winning record
Last updated on .From the section Basketball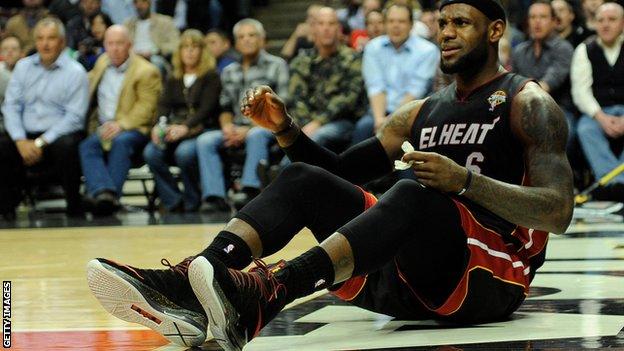 Miami Heat have fallen six short of the NBA record 33-game winning streak after losing to the Chicago Bulls.
Miami's 27-game streak ended, missing the record held by the 1971-72 Los Angeles Lakers.
Heat's LeBron James, the NBA's most valuable player, said there was no shame in falling short of the record.
The 28-year-old said Miami's streak was "one of the best this league has ever seen".
The 2012 Olympic gold medallist scored 32 points in the game, but could do little to stop Heat's 101-97 loss in Chicago.
Miami player Chris Bosh, 29, insisted the record was "more important to everybody else than it was to us".
Miami's last loss was on 1 February against the Indiana Pacers.
Briton Luol Deng scored 28 points for the Bulls.