Guernsey crush Jersey in the basketball inter-insulars
Last updated on .From the section Basketball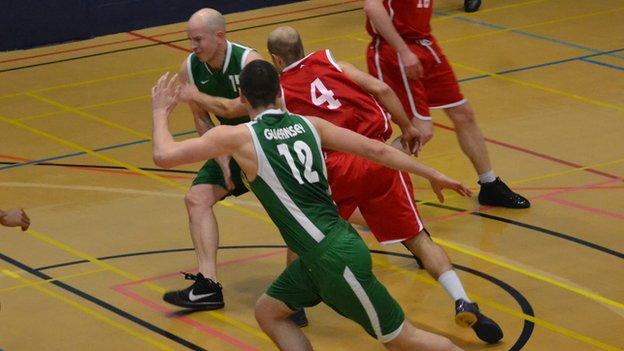 Guernsey crushed Jersey in the annual basketball inter-insulars.
The Sarnian men's side beat their rivals 101-42 to reverse last year's loss while the women thrashed Jersey 78-22 for their 14th straight win.
"It hurt so much last year, especially for me being in charge for the first time," Guernsey men's coach Adam Farish told BBC Guernsey.
"You never even dream of winning by a scoreline of almost 60 points, I'm just so proud of the guys.
"Jersey have got some great individuals and we more than matched them as individuals, but last year that showed it wasn't enough. This year we worked really hard on being a team," he added.
The wins were a bonus for the island side after they were
"We had a bit of disappointment when we found out we weren't going to Bermuda," said Guernsey Basketball Association president and women's head coach Patrick Ogier.
"So there was a lot of focus on the game as it was important for the whole squad to have something to aim for the season."