BBL Play-offs: No revenge for Newcastle Eagles - Fab Flournoy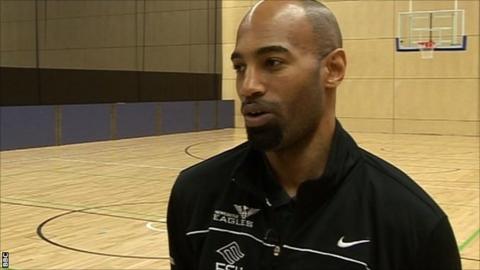 British Basketball League Play-off Final
Venue:

Wembley Arena, London

Date:

Sunday, 28 April

Tip-off:

15:00 BST
Newcastle Eagles coach Fab Flournoy has rejected "revenge" talk going into Sunday's British Basketball League play-off final against Leicester.
Riders pipped Flournoy's side in the BBL Cup final and to the league championship, and could complete a hat-trick in the title decider at Wembley.
"I just want us to play the best, and right now Leicester is the best," Flournoy told BBC Look North.
"I don't want people to question it or say it's just lucky."
Flournoy added: "I want people to say afterwards - either we did it or they did. That's the code I live by and am happy with.
"I'm glad it's Leicester because they're the most consistent team."
The prospect of a Wembley final is a big incentive, even for seasoned winners like Charles Smith - a veteran of 16 pieces of silverware during his spell with the Eagles.
"When we saw the schedule at the beginning of the year we all wanted to get there [Wembley] because we've never played there before," he said.
"Being in front of such a big crowd in England is going to be a great experience."
Smith and company were victorious against Leicester in last season's play-off final, capping off a clean sweep of trophies at the Birmingham NIA at the end of the campaign.
This season has seen the pendulum swing back toward the East Midlands side, with a run of four defeats in four games this term.
However the 37-year-old guard-forward is looking forward to taking on the Riders, with a squad back to full strength.
"It doesn't bother me personally, it was a different situation every time we played them," he said.
"Now we're healthy and everyone's ready to go I'm looking forward to the challenge."
Last season's four-trophy haul came on the back of a drought in 2011, the first time in seven seasons the club were potless after a sustained period of success.
And Flournoy understands the expectations on Newcastle to bring silverware to the north east on a regular basis.
"We have a fantastic opportunity and we will be judged on it coming off a season of feast, if we have no trophies we will be judged," Flournoy added.
"I'll be hugely disappointed because it mans were so close on three occasions because we were there in the league, we made it to the cup final.
"The main reason would be that there's no more basketball to be played, a long lay-off and the season over, a lot to be thinking about.
"Any sports person wants to be winning on the final day, the final game of the season."