Leicester Riders beat Newcastle Eagles to win BBL play-off title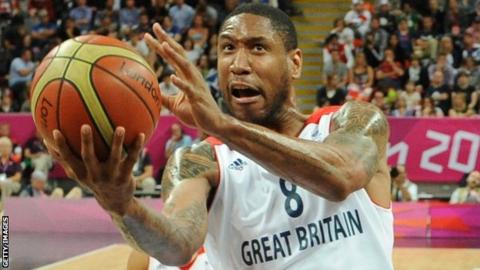 Leicester Riders won the BBL play-offs title for the second time in their history after defeating Newcastle Eagles 68-57 at Wembley Arena.
Great Britain Olympic captain Andrew Sullivan, the BBL player of the year, hit 24 points for the Riders
Leicester dominated the game, posting an early double-digit lead and holding it for virtually the rest of the game.
Newcastle, led by Darius Defoe's 13 points, posted the lowest score ever in a BBL play-off final.
Kareem Maddox and Charles Smith scored 12 points each for Newcastle, but the Eagles again found their shooting touch deserting them on the big occasion.
Leicester were the first team into their stride, swarming over the eagles defensively and benefiting with a 17-2 run, sparked by the five turnovers Newcastle committed in the opening quarter.
Jamell Anderson, who finished with 13 points, had six points in a row as the Riders assumed control.
Ahead 22-11 at the interval, Leicester again turned the screw with Sullivan controlling matters and hitting 10 points to give him 14 as the BBL champions took a 38-26 lead into half-time.
Newcastle greatly increased their defensive effort at the start of the second half and managed to reduce arrears to seven points as Charles Smith and Darius Defoe combined for seven points, but Leicester had a response.
Jay Couisnard drove for a daring lay-up and Sullivan then splashed a three before taking a defensive steal and running it to the other end for a dunk.
Leicester began the last 10 minutes 55-41 ahead and although Newcastle had come back to lead from a similar position in the BBL Cup final, this time Leicester took better care of the lead.
An 8-0 Newcastle run, starting with a three from Chapman, offered hopes that coach Fab Flournoy would be lifting a sixth play-off crown and an 18th piece of silverware since 2004, but Leicester, Sullivan and Couisnard in particular, seemed to always have an answer.
Riders coach Rob Paternostro praised the effort of the experienced Sullivan, who was named most valuable player.
"I thought Sullivan was tremendous early on offensively," he said.
"In a game like this where scoring is hard, and this is how its way it's been with these two teams, Sullivan's effort in the first half put us at ease."
"It's hard to single players because there's always someone coming in with something," he added Paternostro.
"Jamell Anderson, the young GB player, I thought he made a lot of big plays that helped us win."
The win means the Eagles have lost all four of the titles they won last season.
"I can't honestly say if it was Leicester, or the stage, but some of our guys were nervous," said Flournoy.
"Leicester's energy was right. I don't necessarily think our shooting suffered as result of the pressure they put on us - I think it was the momentum and the nervousness."