Luol Deng in hospital with suspected meningitis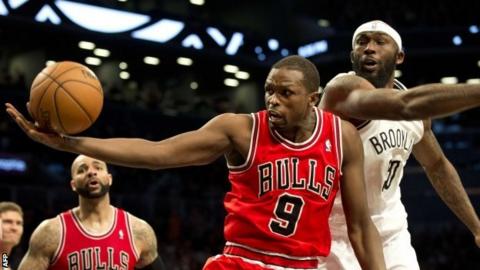 Great Britain and Chicago Bulls star Luol Deng is in hospital in the United States with suspected meningitis.
The 28-year-old missed Game Six of the Chicago Bulls' NBA play-off series with the Brooklyn Nets on Thursday night.
But he insisted that his symptoms may be more serious than the flu virus which has hit the Bulls camp.
"It really upsets me that everyone thinks I would miss a game because of the flu. My symptoms indicated I may have meningitis," Deng tweeted.
"I've played a lot of games with flu in my career.
"On Wednesday I was taken to the Emergency Room and. In order to play on Thursday I was required to undergo a spinal tap [lumbar puncture].
"As a result of the spinal tap I suffered the worst headache I've ever experienced and been the weakest I've ever felt.
"Yesterday I was unable to walk or even get out of bed. I made it to the United Center and was sent home. On Friday morning my symptoms worsened.
"Now I'm back in the ER where I may have to spend the night. I want my team-mates and Bulls fans to know I would never miss a game because of flu. If I'm medically cleared I will fly to New York to be with my team and try to win Game Seven."
The Bulls' defeat on Thursday levelled their series with Brooklyn at 3-3, with the deciding game to be played on Saturday night, with Deng absent.
On Saturday Bulls coach Tom Thibodeau told the Chicago Tribune: "He's still not feeling well, so that's a concern."
Deng, who led Great Britain at last year's Olympics, has already indicated he plans to sit out this summer's EuroBasket in September to rest after the NBA season.