Plymouth Raiders sign new guard Jarvis Jones
Last updated on .From the section Basketball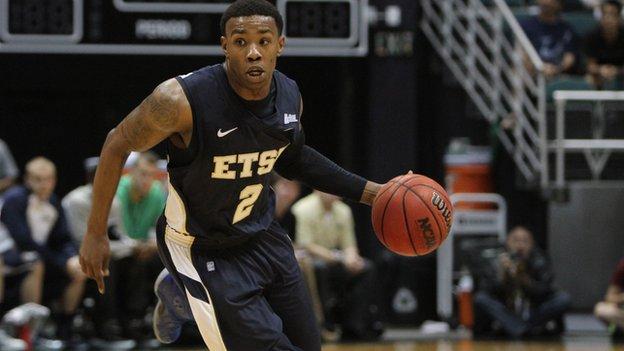 Plymouth Raiders have signed guard Jarvis Jones from Eastern Tennessee State University (ETSU).
The 23-year-old averaged 16 points, 2.8 rebounds and 2.6 assists and 1.8 assists per game for ETSU last season.
"I am so thankful that the birth of my professional career is starting with the Plymouth Raiders," said Jones.
"It's like a dream come true that I'll be playing professional basketball. I'm every excited about meeting my team-mates and playing with them this year."
The 6ft 2in player comes highly recommended by ETSU coach Murty Bartow.
"Jarvis is a player who can really score highly," said Bartow.
"He is capable of hitting shots from outside, but can also take the ball to the basket off the dribble.
"He's got ice water in his veins late in games, and he hit several game-winning, clutch shots for us during his time here. He's also a just a great person and will be a huge asset for any team."
Jones will compete with Gabe Haskins and Donald Robinson for the guard spots. The Raiders saw guard Drew Lasker leave the club to rejoin Newcastle at the end of July.
Raiders coach Gavin Love added: "Jarvis had a good college career and is ready to take the next step in to the professional game.
"There is always a learning curve with first-year players but Jarvis is a very dedicated athlete and I believe his game will translate well into the BBL."