Lee Davie targets Durham Wildcats play-off bid
By Matt Newsum
BBC North East and Cumbria Sport
Last updated on .From the section Basketball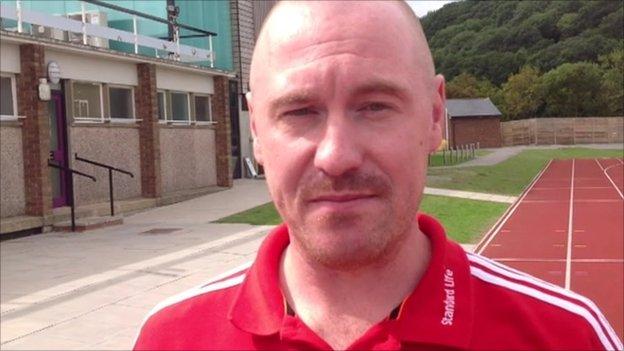 Lee Davie leads a new era at the Durham Wildcats when he takes charge of his first British Basketball League match against Newcastle Eagles next month.
He replaced Dave Elderkin, who left the club having helped them realise the ambition of joining the BBL and overseen their development as a franchise.
Elderkin guided the club to 10 wins last term, a sign of progress after three in their debut campaign, and Davie is targeting further improvement.
"We've put the play-offs as a benchmark to see that the club is going in the right direction," he told BBC Sport.
"There's two knockout competitions we'd love to make a serious run in, and factor in the play-offs, that's really going to be the true test of whether it's been a successful year."
Formerly assistant coach of the Great Britain women's under-20 team and in charge of the under-15 girls, as well as being involved in regional basketball development in the north east, Davie has continuity at Durham in player-assistant Ralph Bucci.
Durham enjoy close links with the city's University in terms of facilities, recruitment and player development - although there are positives and negatives to the tie-in.
The supply of talented players from within the collegiate system for example means a frequent turnover of players, but the benefits of an education at an established establishment has also helped in terms of squad rebuilding.
"Because we're linked with Durham University, a lot of our players are coming in on postgraduate and masters degrees," Davie said.
"The market in Europe for players is shrinking, there isn't the money out there that there used to be so it's an opportunity for players to come in and continue their education for when their basketball career is over.
"With the university's investment it seems while other budgets are shrinking, ours is increasing and we're deeper than we ever have been this year."
Although the Wildcats are yet to confirm their roster for the 2013-14 season, Davie is excited by the calibre, and the blend within the squad.
"We've have signed nine legitimate players, we'll have three or four who have played in the BBL for two years which we've never had before, we've got two guys who've played professionally in Europe for the past few years and three or four guys that have come out of college football," he said.
"All in all, we've got a lot of guys with a winning mentality and hopefully that will translate into a very successful Durham Wildcats campaign this year."
Davie's appointment will see him reunited with some familiar faces in the BBL, including two of the most successful coaches of recent years.
"I've worked with various BBL coaches over the years, and been in the region involved in basketball for the last 10 to 15 years," he continued.
"I spent a year with Tony Garbelotto when he was at the Newcastle Eagles, I spent three or four years with Fab [Flournoy], my previous junior team's coach was Craig Lynch who used to be head coach at the Eagles.
"So I've been around them for the last decade, seen the ins and outs and am looking forward to combining what I learned from those guys with my own styles."