Creon Raftopoulos: Surrey Heat coach sacked amid takeover deal
Last updated on .From the section Basketball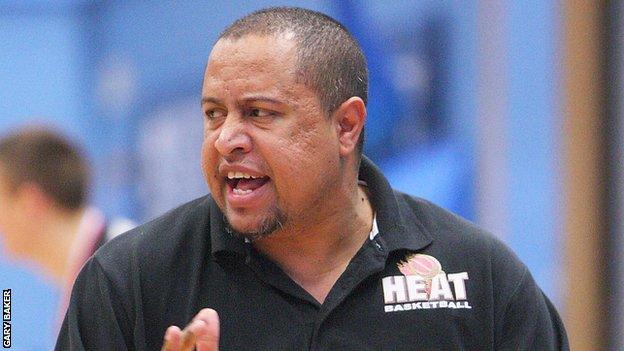 Creon Raftopoulos has been sacked as coach of Surrey Heat, with new owners set to take over the British Basketball League franchise.
The Zimbabwean led the club to a top-four finish last season and the BBL Trophy final in 2011.
He told BBC Surrey: "It really caught me by surprise. I have been working on getting the team ready for next season.
"I did have offers to go abroad after the success I had last season but I turned those down to be with the Heat."
Raftopoulos was appointed as coach in May 2010 when the franchise was known as Guildford Heat.
He learned the news of his dismissal in what he described as an "unconventional" meeting with current owner Alison Reeve and provisional new owner Jack Majewski, the former London United coach and Future Stars director.
"I relocated my family from London to the area so it was a shock," Raftopoulos said.
"The owner called me in and introduced me to the new owners. I wasn't privy to a private conversation with the owner to find out before I walked in.
"That is the nature of the game, I guess."
Majewski confirmed to BBC Surrey that the Surrey Sports Park outfit were due to have a meeting with the BBL franchise committee on Thursday.
Meanwhile, Raftopoulos must now explore ways of continuing his career.
"I am not sure what the future holds as jobs are very difficult to come by in professional sport," he said.
"If we had had a bad season it would probably hurt more, but I know I can hold my head high and leave knowing I have proven I am capable of doing it at that level."
He added: "I am sure that whoever comes in will be given an opportunity to show what they are capable of.
"I want the club to be around and to go from strength to strength because I'd like to believe I did make a contribution in getting it to where it is right now."