EuroBasket 2013: Dan Clark's return boosts Great Britain's hopes
Last updated on .From the section Basketball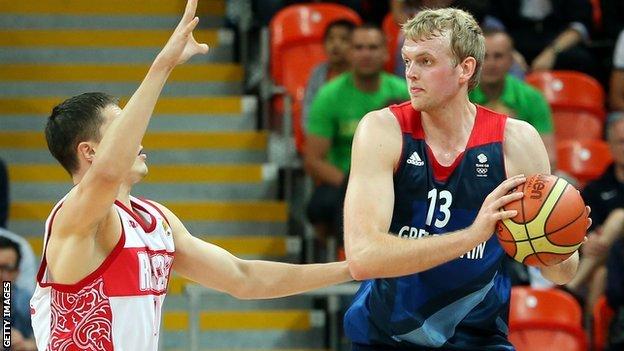 Great Britain's Dan Clark has put country ahead of club, and lost his contract in Spain as a result, after deciding to play for GB in EuroBasket.
Clark, 24, went against the wishes of CAI Zaragoza, who have "dismissed the signing of Daniel Clark".
GB's staff say he is fit but the club wanted him to rest an ankle injury.
Clark told BBC Sport: "I had a disagreement about certain contractual issues which made the decision a lot easier to come away with the GB team."
GB are missing three star players with Pops Mensah-Bonsu, Joel Freeland and Luol Deng all unavailable this summer.
They play five matches in the first phase of a third successive EuroBasket.
Following a medical, the Spanish team announced on their website www.basketzaragoza.net: "The club and player have not agreed on measures to be taken for a full physical recovery of the British player."
Clark said: "I'm ready to help the team in any way possible and win games which is the most important thing.
"I think that playing international basketball that's the most important thing (putting country first). Everyone who comes here, it's their decision to come and they come into the squad knowing it's about GB Basketball, not about the individual so everyone buys into that and hopefully we can go a long way.
"It is a team game, but within that there are a lot of opportunities to show what you can do and your skill-set but the most important thing is that if you're on a winning team then you're obviously going to get more attention because clubs want winners and winners win things, so that's the most important thing."
The club's pre-season has already started and Zaragoza are due to play a match on 7 September, four days into the 19-day EuroBasket tournament. Clark had been their only player with EuroBasket commitments.
After taking on Israel, Great Britain play France and Belgium in the following two days. After a rest day, they compete their group stage with games against Germany and Ukraine. The top three teams in the group will qualify for the next phase.
Clark, who has played in Spain since the age of 16, is one of six Olympians in the current squad. Andrew Lawrence, Eric Boateng, Kyle Johnson, Kieron Achara and captain Andrew Sullivan are the others.
Great Britain have a new head coach, Joe Prunty, in charge and a number of young and inexperienced players that have at times struggled with the demands of the international game this summer.
After winning their opening warm-up game at London's Copper Box against Puerto Rico, GB have lost six successive away games to fellow qualifiers Finland, Greece, Sweden, Poland and Spain (twice).
The last game, in Zaragoza, saw GB lose 100-46, their worst defeat since the programme restarted in 2006.
"If you look at the team we have this summer, there's a lot of guys who haven't played a lot of games at this level," said Sullivan, who now has more than 100 appearances for GB and England. "It's a great opportunity for them to learn."
GB were eliminated at the first stage of the 2009 and 2011 EuroBasket tournaments and future funding awards will depend upon their record in the new two years.
GB squad: Kieron Achara, Ogo Adegboye, Eric Boateng, Dan Clark, Ali Fraser, Myles Hesson, Kyle Johnson, Andrew Lawrence, Gareth Murray, Justin Robinson, Andrew Sullivan (capt), Devon Van Oostrum. Coach: Joe Prunty. Assistants: Guy Goodes, Nate Reinking.