EuroBasket 2013: Great Britain lose to Belgium in Slovenia
Last updated on .From the section Basketball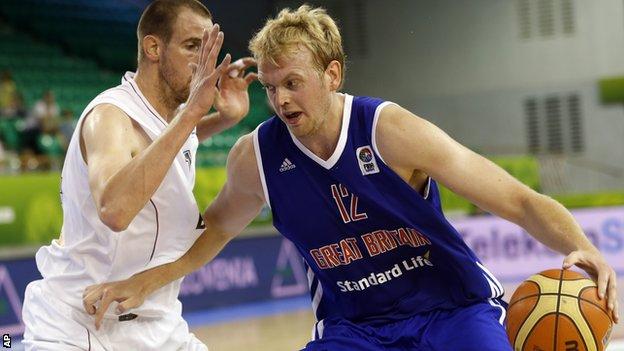 Great Britain lost for the second time in two days as Belgium claimed a 76-71 EuroBasket win in Slovenia.
A strong Belgian second-half performance proved decisive after Britain led 38-33 at half-time.
Britain's Daniel Clark finished the match as leading points scorer with 19, but he could not prevent defeat.
Joe Prunty's side now need to beat both Germany and Ukraine in their final Group A fixtures to stand a chance of reaching the second round.
Britain, who beat Israel 75-71 in their first game but lost 88-65 to France in their second match, must finish in the top six to get next year's Olympic funding.
Only the top three from their six-team group will progress to the second round, and Britain will be disappointed not to have won a close contest with Belgium after they had been level at 55-55 heading into the final quarter.
Sacha Massot top-scored for the Belgians with 15 points, while Wen Mukubu added 13. For Britain, Myles Hesson and Kieron Achara chipped in with 12 points each.
"They played a solid game but I'm just disappointed," Achara told Eurobasket2013.org.
"I felt like we had the game but we made some mental lapses in the second half and they capitalised on it. You can't make mental lapses like that in a tournament like this."