Plymouth Raiders appoint Jay Marriott as new coach
Last updated on .From the section Basketball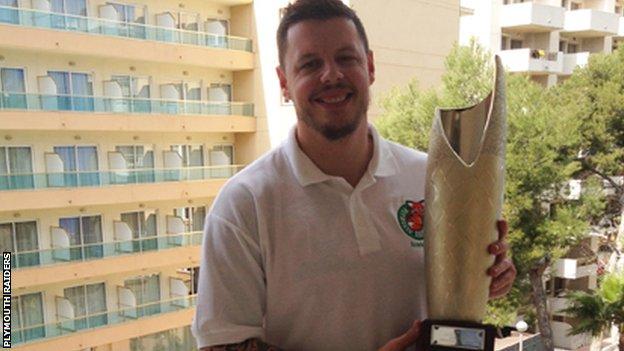 Plymouth Raiders have appointed Jay Marriott as their new coach, following Gavin Love's sacking on Friday.
Love suffered a vote of no confidence from the Raiders board, just three weeks before the start of the season.
Marriott, who had been working as head coach of the club's academy, will be assisted by David Brock.
"I'm very excited and can't wait to get started. We still need to be a success - there's no let-off for me on that front," Marriott told BBC Radio Devon.
The former professional player will face Birmingham Knights, one of his former teams, in his first match in charge on next Saturday.
The pre-season friendly is one of only three before the competitive action starts against London Lions on Sunday 29 September, so the timing of Marriott's appointment does not leave him with much opportunity to work with his squad.
However, he insisted: "The club's definitely not in disarray.
"Looking at the timing of it people might piece that together. It's not ideal, but I definitely think that moving forward, putting trust in me will help with continuity."
Marriott hinted that Love's exit may have been as a result of a difference in philosophy with the board over the club's future direction, particularly in terms of promoting young British talent.
The board has made it clear that it would like to see more young talent promoted to the first team instead of signing overseas players.
"At the end of the day it was two people with two different visions.
"Gavin Love signed seven players and we're 100% behind those players - we've made one extra signing which will be announced later this week: he's a British player, who has been playing in Italy and he feels he has a lot to prove. I think he deserves a chance," said Marriott.
"I'm lucky I have a great relationship with Gavin so I was privy to most of what was going on over the summer - the new players aren't strangers to me and they've all embraced it and understand the nature of the beast and that we have a job to do.
"My work with the academy has enabled me to be in touch with the young talent in England and to see what we can do to improve that and it's going to be a mesh of the two - some experience from overseas and some local experience."
Raiders chairman Bob Widdecombe said there was a "real air of positivity" around the club, which would now be trying to bring the whole basketball community in the area together.
He added: "We're looking forward to some very exciting basketball this year. Both Jay and David get on extremely well together, and that chemistry will feed down through the team."