EuroBasket 2013: GB face funding cut after defeat by Ukraine
Last updated on .From the section Basketball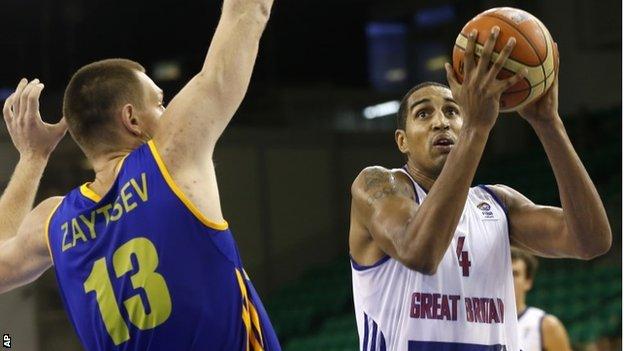 Great Britain men's basketball team's hopes of further Olympic backing have been dealt a blow after failing to make it past Eurobasket's first round.
An 87-68 loss to Ukraine in their final group game in Slovenia ruled out any chance of progression in the event.
After London 2012, British Basketball appealed against funding body UK Sport's decision to cut its funding.
But in return for their ongoing backing of up to £7m, UK Sport demanded at least a top-six Eurobasket place.
The British women's team suffered a similar fate in June's EuroBasket when they could not produce a top-eight placing - the minimum requirement demanded by UK Sport.
Both the men and women received an initial one-year's funding from the £7m pot, with future instalments dependent on how they performed at these competitions.
Coming into the final group game against Ukraine, Britain's men had lost to France and Belgium and defeated Israel and Germany.
Victory on Monday could have seen them progress to the second round - although they would have then had to move deep into the third play-off round to have a chance of a top-six finish.
GB were trailing after the end of every quarter, with Ihor Zaytsev and Kyryl Natyazhko both scoring 11 points for Ukraine. Kieron Achara and Devon Van Oostrum led the scoring for Britain, with 12 points each.
An 18-4 run in the second gave Ukraine a 48-31 half-time lead and they controlled the game well after interval, keeping GB at least 15 points adrift for virtually the whole second half.
Team member Dan Clark said: "We put ourselves in the right position but didn't execute. It's tough not to be able to make that extra push and we're disappointed we didn't get to our objective for the tournament, which was to reach the second round."
"Belgium was crucial and today was - two important games and we didn't win. Against Belgium we didn't know how to [win] and missed that experience [which Luol Deng and Joel Freeland would have brought], but that comes with a young team."
"There are positives because some of the younger guys performed really well and if we can keep being supported they will grow and the programme will continue to get stronger."
UK Sport's annual review - where they'll consider GB Basketball's funding - will take place at the end of January 2014.