GB Basketball hoping UK Sport supports Rio Olympic bid
By Nick Hope
BBC Olympic sports reporter
Last updated on .From the section Basketball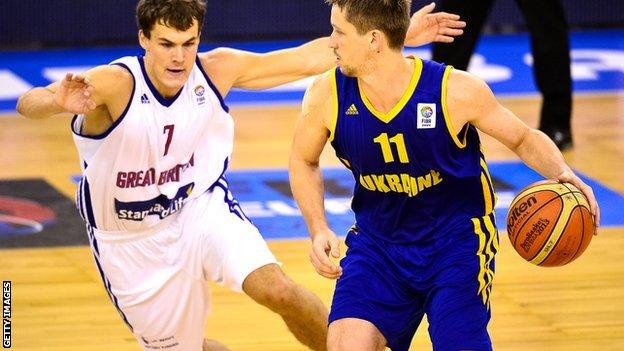 British Basketball hopes UK Sport recognises their squad's potential despite falling short of agreed performance targets.
UK Sport will assess GB Basketball's situation at the annual review in January, with a decision on any potential funding - which is based on reaching performance targets - due to be revealed the following month.
They awarded British Basketball a temporary funding reprieve in February and will decide whether to extend that through to the Rio Olympics early next year.
But GB chairman Roger Mooreland told BBC Sport: "There is a golden generation coming through.
"When we received funding [in February] we were not looking at being medallists in Rio, but in 2020 and we have a pipeline of talent coming through the under-16s, 18s and 20s which is really exciting."
After victories over Israel and Germany the British men were close to securing progress to the EuroBasket second round for the first time, but defeat to Ukraine in their final Group A fixture ended their campaign.
The team's prospects were not aided by the absence of NBA players Luol Deng and Joel Freeland - particularly evident during what turned out to be a key defeat to Belgium.
"Against Belgium we didn't know how to [win] and missed experience at certain times, but that comes with a young team," Olympian Dan Clark, 24, told BBC Sport.
"We have a few great players that stepped up towards the end of the tournament and they need to have have the opportunity to keep playing in major events so they can keep developing."
Consistency and stability is seen as crucial to continuing the progress of players like guard Devon Van Oostrum and forward Myles Hesson, who both impressed in Slovenia.
"To be an elite team you need the right type of equipment and facilities," said GB vice-captain Kieron Achara.
"St George's Park [home of the English Football Association and where the team held their pre-EuroBasket training camp] has helped us a lot and we need the right backing and treatment off the court like we get there on a regular basis."
That will all cost money, which despite a conditional award of £7 million heading towards Rio 2016, is currently in short supply due to annual target the sport has to achieve in order to release the next phase of funds.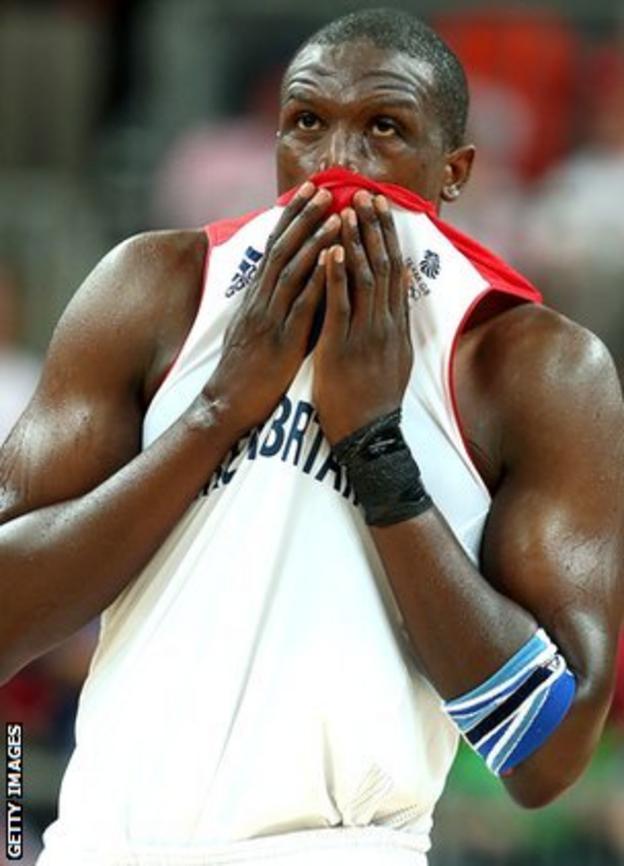 However, rather than seeking a greater budget, Moreland would like to see UK Sport show commitment through to 2016 and beyond - something he admits he is "hopeful" they will achieve.
"I have some fantastic staff and that's how we have grown our programmes by having great people involved," he said.
"I don't want to have to replace people year after year and that's why a greater degree of consistency, which recognises the potential that we've got, is really important to us for the future."
Men's head coach Joe Prunty, who took over from Chris Finch in June, is currently on a one-year deal and anxiously awaiting UK Sport's decision to learn if he can continue in his current role.
"I don't know what will happen, but appreciate every opportunity we've been given and would like to continue," Prunty told BBC Sport.
"It's frustrating we lost and didn't make the second round because then anything could have happened, but we can be proud of what we achieved and I'm confident we can continue to build step-by-step to 2020."
A settled domestic situation will also certainly help the players.
Half of the 12-strong British team entered the EuroBasket as 'free agents' and will now be searching for clubs.
"It's a little bit more demanding and stressful not knowing our future and being unemployed," said Achara.
Clark's club contract with CAI Zaragoza was cancelled on the eve of the EuroBasket after a disagreement over an ankle injury, which club officials had wanted the player to rest.
"The team was the most important thing, but now I need to sort something quickly," said the forward.
"What happened will make it hard as people will be asking a lot of questions, but hopefully coming here and performing well will help me in the long-term."
With both the GB men's and women's team's failing to reach the final six of their respective tournaments neither will participate in next year's World Championships.
The next competitive fixtures for the squads are therefore likely to be qualification games for the crucial 2015 EuroBasket competition, beginning in late 2014.