Surrey United coach Jack Majewski eyes BBL play-offs
Last updated on .From the section Basketball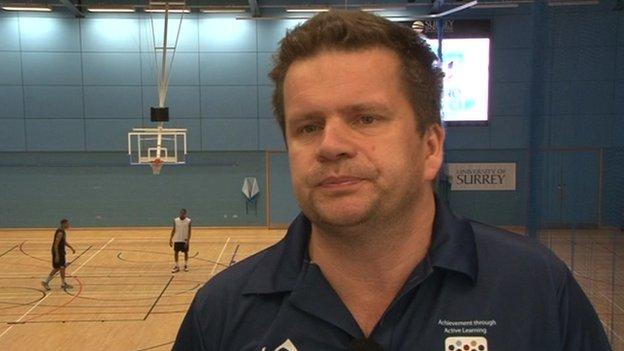 Surrey United head coach Jack Majewski has targeted a top-eight finish in the British Basketball League this season.
He told BBC South Today: "We will be very happy if we are competitive and make the play-offs.
"By that time, if we are good enough to make the play-offs, then God knows. Young players are unpredictable."
He added: "They might start believing that they can walk on water."
Majewski intends to use players from the London United Academy at Harefield to bolster his squad throughout the year and he is adamant a core of younger players will eventually bring success to the club.
"We will play a slightly different type of game and will rely on younger players," he said.
"That underlines our philosophy - to give the chance to young, talented players around Europe. We want to do it and we believe in it.
"Alan Hansen [football pundit] will live to the end of his days with the saying 'You cannot win with kids'.
"He was famously proven wrong. We can win with kids, led by slightly older players, undoubtedly. Not this season, but kids are the future.
"Working with the same group of people and building on a base is hugely important for us."
Surrey United begin their BBL campaign at home to Worcester Wolves on Saturday.