NBA: Kevin Durant stars in Manchester pre-season game
Last updated on .From the section Basketball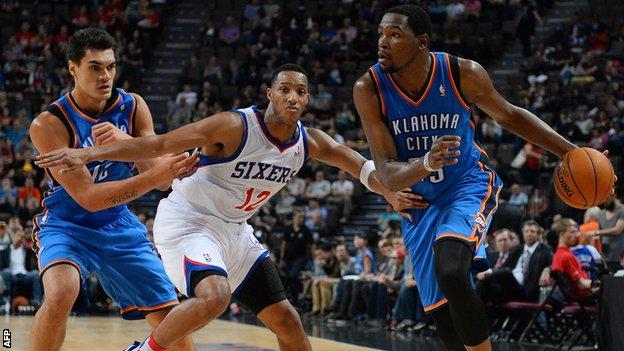 Kevin Durant starred as Oklahoma City Thunder edged out the Philadelphia 76ers 103-99 in an NBA pre-season game played at the Manchester Arena.
Durant, 25, said he hoped it would not be long before he returned to the UK.
"I just love basketball and any time I have the chance to compete I go for it. It was pretty fun to play in front of that crowd," Durant said.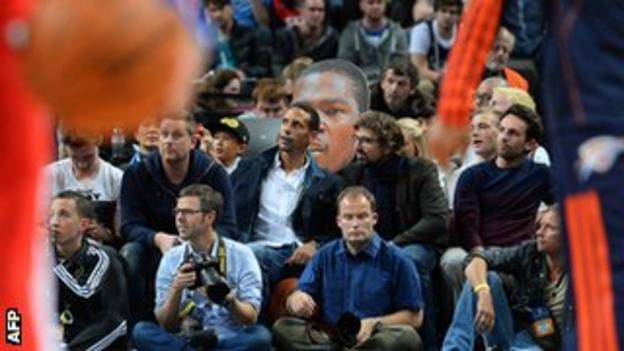 "The fans were unbelievable and they deserve to have some more basketball, and regular-season basketball too, over here and I'm sure you'll see them expand that in the future.
"Hopefully we'll be one of those teams that comes over because I've enjoyed it."
A number of Manchester's football players were among the in front of 13,472 crowd including Rio Ferdinand, David De Gea, Adnan Januzaj, Jack Rodwell and Patrick Vieira.
Durant was slow to get going, but he made his mark with a big dunk late in the second quarter.
Until that point the Thunder had been relying on Spain star Serge Ibaka to keep ahead of the three-point shooting of the 76ers.
Philadelphia briefly edged in front at half-time, but the Thunder came back strongly in the third quarter and then did enough to hang on for victory.