NBA London visits to continue as Nets defeat Hawks at O2 Arena
Last updated on .From the section Basketball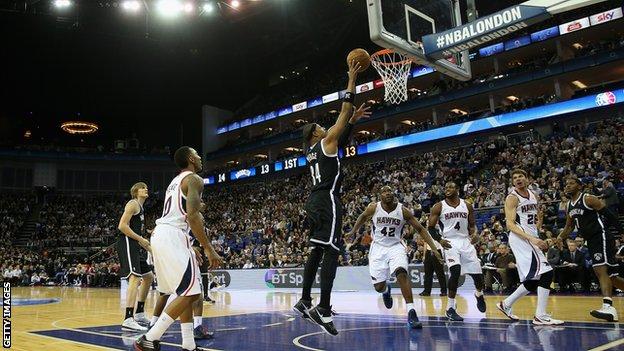 London is set to host more NBA games after a sell-out crowd at the O2 Arena saw the Brooklyn Nets cruise to a 127-110 victory over the Atlanta Hawks.
Joe Johnson scored 29 points and Andray Blatche 20 off the bench as five Nets players notched double figures.
It was the fourth regular-season game played in London and NBA deputy commissioner Adam Silver expects more.
"It's been fantastic. We have plans in place to continue playing regular-season games in London," Silver said.
"We'll continue building for our business both in London and Europe.
"Right now we're going to continue on the same course - an annual regular-season game, in London."
The NBA also staged a pre-season game between Oklahoma City Thunder and Philadelphia 76ers in Manchester in October last year.