Guernsey coach Adam Farish excited by Founders Cup test
Last updated on .From the section Basketball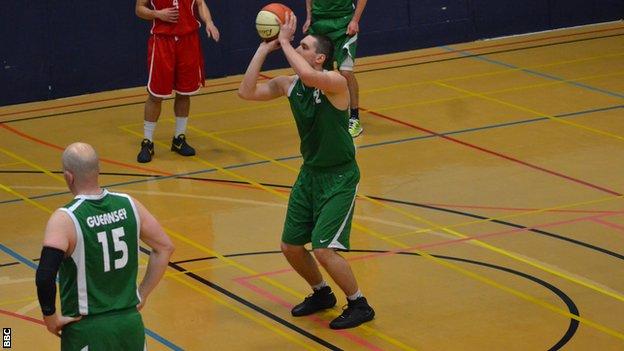 Guernsey coach Adam Farish says he is looking forward to the draw for the Founders Cup knock-out stages, after completing their group fixtures.
Farish's side beat Brighton Cougars 80-68 in their final group game to avenge their sole defeat in the competition so far this season.
"We're expecting a step up in level, especially if we're drawn against a London side," he told BBC Guernsey.
"But we don't really know and that the exciting thing with the Founder's Cup."
Guernsey also beat the University of Winchester Knights by a huge margin of 86-41
"We went through the motions somewhat against Winchester and gave everyone a run-out and worked through some of our offensive moves," admitted Farish.
"They weren't an especially strong side.
"The guys were really up for the game against Brighton [who beat Guernsey 84-68 in the reverse fixture last year] and it was another real battle but we led from start to finish."