Rob Paternostro: British basketball riding wave of momentum
By Owen Phillips
BBC Sport
Last updated on .From the section Basketball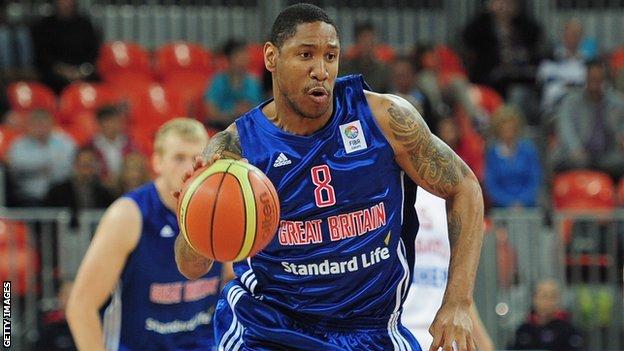 Leicester Riders head coach Rob Paternostro is convinced basketball is growing in popularity in the UK and will continue to do so despite having its Olympic funding cut.
"Basketball is getting more and more popular," the American told BBC Sport.
"No matter what funding cuts they do to the national team, I don't think it can stop the wave of momentum we have."
Sport England has invested money in basketball and five other sports with the aim of increasing levels of participation and providing funding directly to programmes at grassroots level.
But UK Sport has decided to put money into other sports ahead of the Rio Games in 2016 and Tokyo 2020, saying it was "high risk" to continue funding sports with little chance of winning a medal by 2020.
Roger Moreland, British Basketball's performance chairman, said at the time of that announcement that the basketball community at home and abroad will be "aghast".
Paternostro, who has been involved in British basketball since joining the Birmingham Bullets in 2000, added: "It is unfortunate because when you look at the national team, you are looking at a team that has come from nowhere.
"They are playing in the Olympics and in the European Championships against these powerhouse teams and were only a few plays away from winning, which is just an incredible rise.
"It is the type of thing where they are focusing on medals with the funding and they believe that other sports have the opportunity to medal.
"I don't really get too caught up in that, but what I do know is that it will be hard to find a sport that is as popular as basketball is throughout all ages and backgrounds. I don't think there is anything that can stop that and I think it will increase.
"Just being on the ground here with the Riders and in the community it is easy to see where this sport is going.
"Maybe this is a little bit of a setback but I don't think there is any stopping it [basketball's growth]."
Paternostro first joined Leicester as a player in 2006 and returned as coach in 2008. Last season the 41-year-old led Riders to three of the four domestic trophies, and they have already won the BBL Cup this season.
"We played in three finals last year and one this year - all in different parts of the country, and in Glasgow," Paternostro said.
"Every one was sold out so it's not just a regional thing - it's popular up and down the country.
"And I also believe there are a lot of young adults that have been exposed to the game maybe more than a generation before.
"When you see the people that are covering the sport from the media side, you do see a lot of younger people that played it in school and watched it on TV."
Paternostro feels the speed, constant excitement and instant appeal of basketball means it has plenty to offer.
"In this day and age everyone wants things to happen quickly and in basketball it happens quickly," he said. "It is back-and-forth action, there are a lot of highs and lows.
"And also with social media you can find anything you want whenever you want. Ten years ago a basketball fan would maybe have to stay up until three in the morning - now you don't have to."
Paternostro also believes Great Britain and Riders captain Drew Sullivan is a perfect role model to inspire the next generation of players.
"There is no doubt he is a special, special player who has greatly influenced where we are today," Paternostro said.
"There's no doubt he deserves to be picked out. I believe he is the best player in the league.
"He won the MVP [most valuable player] in the league last season and the thing that is so great about Drew is that it is not because of statistics that he wins the MVP.
"Our league for years was maybe too hung up on statistics but a guy like Drew does a little bit of everything and in the big moments he never hides.
"People around the league respect that about him and it is a comforting feeling to have him on the floor in those big moments."
Sullivan has been instrumental in the Riders' rise, which now means they are consistently challenging on all fronts in the domestic game.
The team have slipped to fourth in the BBL table, with Worcester Wolves leading, Newcastle second and Sheffield in third place.
However, Riders are only eight points off the top and have a game in hand on the leaders.