'Best ever' Wolves are ready for Trophy final says James
Last updated on .From the section Basketball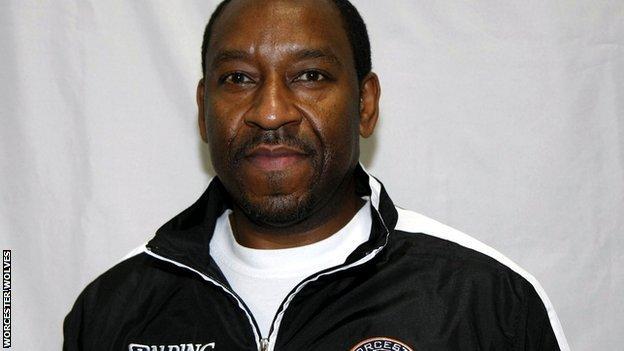 Worcester Wolves coach Paul James says his team are ready to win their first-ever BBL title when they take on Glasgow Rocks in Sunday's Trophy final.
"Our away form is better than our home form," James said.
"Obviously it will be a little different because there will six-and-a-half thousand people shouting against us but we just want to play well."
James added: "We've gone from a team that just tried to outscore teams, to a team that stops other teams scoring too. I think we've got better every season," he said.
The Wolves, now in their eighth season in the BBL, still have a chance of winning three titles this season.
They are second in the championship standings with games in hand on leaders Newcastle and will be among the favourites for the play-offs.
Trying to win the league title remains very much the team's focus according to James.
"We're very clear that we have it in our hands - we have to win the last eight games," he said.
"We have a very strong spine with Zaire Taylor, Will Creekmore and Alex Owumi, but our supporting cast are all good players in their own right."
James, who coached at Thames Valley and Guildford, took over as Wolves coach in December 2009 after a players' strike saw previous coach Charles Evans and six players leave the club.
"It's my fourth season here and one of the things we did when I first came in was to change the way we play and do things," said James.
Worcester have already beaten the Rocks twice in the Championship this season - winning 92-77 in Glasgow in November and 89-82 at the University Arena in February.