Worcester Wolves: Play-off final 'too close to call' - Paul James
Last updated on .From the section Basketball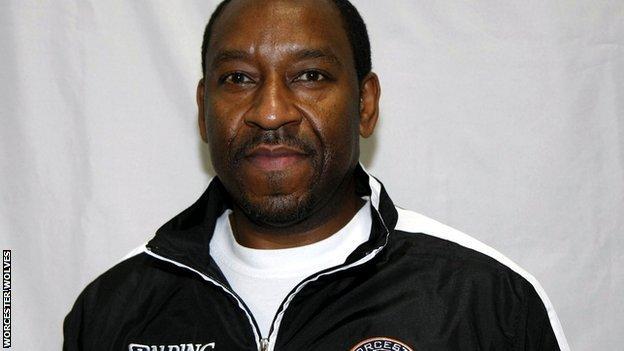 Worcester Wolves head coach Paul James is sure his side's attacking talent can help edge out Newcastle in Sunday's BBL play-off final, in a match that he thinks may be "too close to call".
"We match up well, I think it is too tight to call," James said.
"If we attack them like we've done in previous games when we've beaten them, I don't think they can live with us."
The two teams are meeting for the fifth time this season, with each side having beaten the other twice.
But James feels the Wolves have had the upper hand in the mini-series so far.
"I think they've beaten us once, really, that was the home game when we weren't prepared and they got off to a fast start," he said.
"When we have won we've had convincing margins and the one time we did lose it was in overtime, when Zaire Taylor fouled out with 10 minutes to go and we were 10 points up at the time."
The Eagles finished top of the BBL Championship, beating Wolves into third place, a feat that saw their coach Fab Flournoy named coach of the year.
"He sent me a message saying 'we both know you should've won that award' - which was nice of him," James said.
"I have the utmost respect for Fab. We're good friends."
Wolves won through to the play-off final after beating London Lions 178-166 over two legs in the quarter finals, before a comprehensive 79-59 win at Sheffield Sharks in the first leg of the semi-final gave them a platform to win through to the final and another shot at Newcastle.
Having already sealed their first piece of silverware in their history with their Trophy win over Glasgow Rocks in March, James is desperate to finish the season on a high.
"It's going to be a very physical game. They like to run and play defence, as we do," he said.
"It might be a low-scoring game and it will come down to who executes best.
"We're going to need people like Alex Owumi, Zaire Taylor and Will Creekmore to be on their form if we're going to win."