NBA Finals: Miami Heat 95-110 San Antonio Spurs
Last updated on .From the section Basketball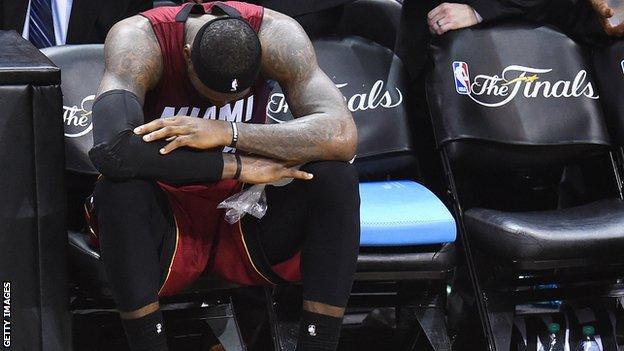 Miami Heat forward LeBron James went off with heat exhaustion and cramping as San Antonio Spurs won game one of the NBA finals.
James was forced to leave in the fourth quarter after a faulty air conditioning system caused sweltering conditions.
Miami were trailing 94-92 when he left and San Antonio out-scored them 16-3 in the four minutes he was absent.
"It was unusual circumstances," said James. "I've never played in a building like that."
The 29-year-old began to struggle when temperatures inside the AT&T Center arena soared to 30C and he had to be carried by team-mates back to the bench when his legs seized up.
San Antonio's victory goes some way towards avenging Miami narrowly beating them to the NBA title last year.
The Spurs said the broken air conditioner was due to a problem with the electrical supply to the cooling system in the building.
Rod Thorn, NBA president of basketball operations, said they did not consider stopping the game.
"Once the game starts it is in the hands of the referees," he said. "I never said anything to them regarding the fact the game should be cancelled."