LeBron James opts out of Miami Heat contract to become free agent
Last updated on .From the section Basketball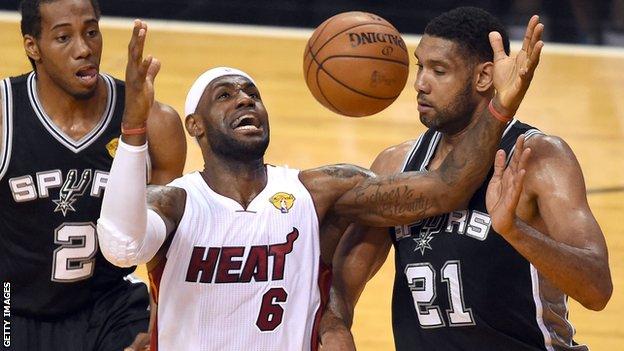 LeBron James, basketball's biggest star, is opting out of the final two years of his Miami Heat contract, which is worth $42.7m (£25.1m).
James, 29, the NBA's most valuable player on four occasions, will become a free agent on 1 July.
That means any team in the league can bid for his talents, or he may re-negotiate his contract with Miami.
"We look forward to sitting down with LeBron and talking about our future ," said Heat president Pat Riley.
James, who would have earned $20m (£11.7m) next season, won NBA titles with Heat in 2012 and 2013. He also led Miami to the NBA Finals in 2011, when they lost to Dallas, and 2014, when they were heavily beaten by San Antonio.
It is possible James could re-sign with the Heat for less money and allow the club to strengthen and remain within NBA salary cap rules.
Similarly, James could sign with another club for less than the maximum, freeing up funds to attract other talented players in hopes of building a new title contender.
In the past James has been prepared to play for less money to be part of a winning team and his salary is far from the highest in the NBA. Kobe Bryant, of Los Angeles Lakers, earning $30.5m a year.
There is speculation he could return to Cleveland where he spent the first seven years of his NBA career.
James averaged 27.1 points, 6.9 rebounds and 6.4 assists in 77 games last season for the Heat.