GB women reach EuroBasket finals for third time in a row
Last updated on .From the section Basketball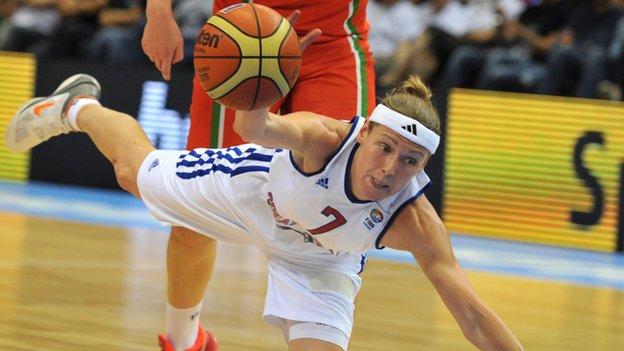 Great Britain's women finished their Eurobasket qualifying campaign with a 70-63 defeat against Lithuania but have still qualified for next year's finals.
A win for Bulgaria against Israel in another qualifying group ensured GB a place in their third successive finals.
In a fast-paced game at Worcester, GB were always in touch but slipped back close to the end.
Rachel Vanderwal led GB's scoring with 13 points and Azania Stewart added 11 points and 12 rebounds.
"Our guys did a fantastic job," said GB head coach Peter Buckle. "We came here and set some targets about how we wanted to play and I'm very proud about how far our team have come."
Stewart had one of her best games in a GB vest, playing strongly at both ends of the floor and Stef Collins, Stephanie Gandy and Lauren Thomas-Johnson all made major contributions with 10 points apiece.
A three-point shot from Lithuania's Vita Kuktiene just over two minutes from the end gave the visitors a 10-point lead and although GB hit the next five points, that was as close as they got.
"I'm proud of my team," said Stewart. "We put everything on the line but Lithuania were just that little bit better than us."
Despite the defeat, GB have cemented their reputation as regular Eurobasket finals qualifiers and with the men also seeded to qualify later this summer, the recent total cut in funding for the two programmes is set to become an issue again.
GB Basketball performance chairman Roger Moreland says he intends to bring up GB's continued success at European level with the Sports Minister to see if funding can be found.
"I'll be writing a letter to the Sports Minister very soon", he told BBC Sport. "Helen Grant's got the solutions if she wants to find them.
"Because in the end, although we might not fit the criteria for UK Sport, there's an awful lot of resources going into sport and she [Grant] oversees them."