LeBron James: Where will the NBA's biggest star play next?
By Dave Hyde
South Florida Sun-Sentinel columnist
Last updated on .From the section Basketball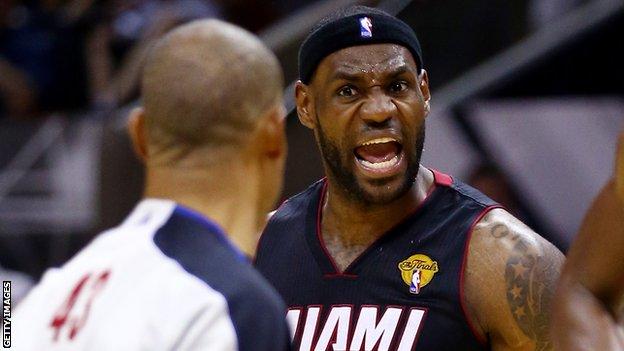 Imagine this: Lionel Messi is on the open market for any team to sign.
No transfer fee involved. No deal to be negotiated with Barcelona. But plenty of clubs lining up to tempt Argentina's football superstar.
That is the scenario in the United States following LeBron James's decision to opt out of his contract with top basketball side Miami Heat.
James does his job as well as Messi does his.
He also plays in a sport where one player has a greater impact on a game's outcome and can lift a franchise, even an entire city.
So his decision to opt out of the final two years of his Heat contract this week has caused a free-for-all of hope, hyperventilating, possibility and infernal noise across much of sporting America.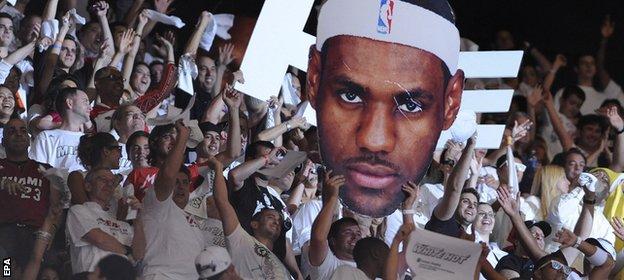 In Miami, there is panic on the streets as radio talk-shows debate whether James is really going to leave or, as many predict, eventually sign a lucrative new deal.
In other cities, fans are salivating and teams plotting in the hope of luring this once-in-a-generation player who shimmers before them, taunting them with his brilliance, encapsulating everything desired in a player: talent, health, charisma, attitude, championships.
At 6ft 8in and weighing almost 18st, the 29-year-old is a powerful physical package of unusual size and speed who can play all five positions on the court in a given game.
He is also a team player. He finished third in the league in scoring last season, was 11th in assists and led Miami in rebounds.
In four years as a Heat player, James has led them to two National Basketball Association titles and won two Most Valuable Player awards, giving him four in the past six years.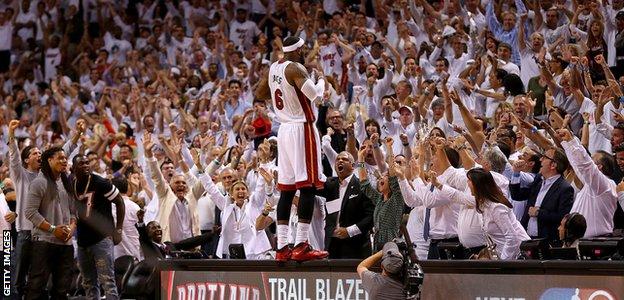 In fact, Miami have advanced to four consecutive NBA Finals in James's four years there, only the fourth team to achieve the feat.
Off the court, James, an Olympic champion in 2008 and 2012, has been similarly impactful.
Within days of signing the former Cleveland Cavaliers player and two talented team-mates - Dwyane Wade and Chris Bosh - in July 2010, Miami released its entire ticket-selling department.
All tickets had been sold and 'The Heatles', as the Heat were nicknamed, have played to sell-out arenas and record TV ratings ever since.
Indiana coach Frank Vogel even called James "the Michael Jordan of this generation" after losing to Miami in the play-offs for the third consecutive year.
| Michael Jordan | | LeBron James |
| --- | --- | --- |
| 6 | NBA titles | 2 |
| 6 | MVP awards in NBA Finals | 2 |
| 5 | NBA MVP awards | 4 |
| 14 | NBA All-Star appearances | 10 |
| 2 (1984 & 1992) | Olympic gold medals | 2 (2008 & 2012) |
Jordan, a six-time NBA champion, is widely acclaimed as basketball's best ever player.
Like him, James considers winning championships the priority as he looks to cement his name among the greatest to play his sport.
"I want to win, that's all," he said, a few days before declaring himself a free agent.
But how will opting out of the final two years of his contract with Miami, worth $42m (£24.6m), advance him to that goal? And will he really leave the Heat?
Teams cannot negotiate with James until 1 July, and cannot officially sign him before 9 July. In the meantime, there is almost constant speculation about his future plans.
Will his good friend Chris Paul, the Los Angeles Clippers guard, help recruit him to the West Coast?
Will another friend and current free agent, Carmelo Anthony, join forces with him and Kobe Bryant at LA's more storied team, the Lakers?
Are Chicago in play? Houston? New York?
And could he return to Cleveland, the Ohio team where he played the first seven years of his career and near his beloved hometown, Akron?
James left Cleveland in 2010, after seven years with the Cavaliers.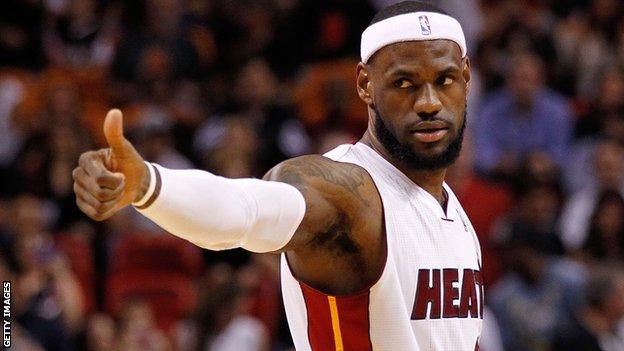 The vehicle he chose to announce his departure - an hour-long, prime-time TV show called The Decision - made him a polarising figure in American sport.
James has since said the off-putting arrogance of The Decision was a mistake, as was his confident response on signing for Miami.
Asked if he would win a title with Miami, he replied: "Not one. Not two. Not three. Not four…"
He stopped at seven but was lampooned given he had not won a single title at that point. No rival is laughing now.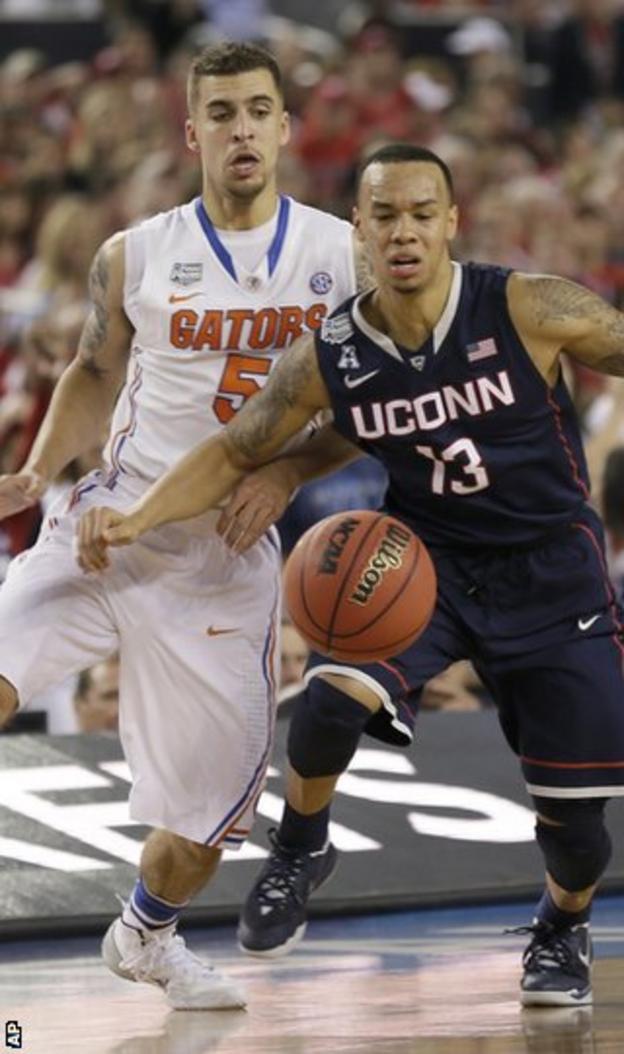 As James ponders his future, every tweet and quote is interpreted as some kind of sign.
When his wife Savannah sent out an Instagram message reading "Home sweet home" on returning to Akron for a summer visit, it caused a seismic internet reaction, with many believing it indicated James might be moving back to Cleveland.
Before then, Heat team president Pat Riley, a basketball legend himself, had issued a public challenge to James.
"This is hard, building championships, and you've got to stay together if you've got the guts and you don't find the first door and run out of it," he said.
Many wondered how James might react but, when the NBA draft was held on Thursday, Riley sent a more conciliatory message.
James tweeted in April about his admiration for University of Connecticut point guard Shabazz Napier.
Sure enough, Riley swung a trade with Charlotte Bobcats to get Napier with the 24th pick.
James was delighted, prompting speculation he would remain at Miami after all. "He's not going anywhere," ESPN's Jalen Rose said during the draft coverage.
Complicating the James question are the NBA's Byzantine rules that manage how and how much teams can spend on players.
Unlike sports such as football, the NBA is financially structured so the richest teams cannot outspend rivals for the best players.
Each team has the same salary cap, which was $58.7m last year.
That is expected to increase to about $63m for the forthcoming season, but any team signing James would have to trade other players to make financial room for him.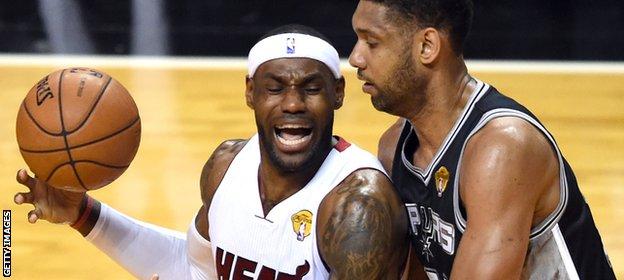 Alternatively, current players could be asked to restructure their contracts to take millions less.
Maybe James will take less than he can, too. Some basketball peers have for the sake of winning.
San Antonio star Tim Duncan is the most relevant example. Just last week, he re-signed on the same salary as his previous deal - $10m. He could, perhaps, have earned twice that much.
Such financial sacrifice by Duncan and team-mates such as Tony Parker explain how a small market team like San Antonio could build a team that dethroned Miami in the NBA Finals a couple of weeks ago.
But will James do something similar? He certainly isn't hurting for money.
Forbes magazine estimated James has a net worth of $250m.
Highest-paid sports stars in 2013
Floyd Mayweather (boxing) - $105m
Cristiano Ronaldo (football) - $80m
LeBron James (basketball) - $72.3m
Lionel Messi (football) - $64.7m
Kobe Bryant (basketball) - $61.5m
Source:
Forbes Rich List
James has reportedly added to that this year, including possibly the largest equity pay-out for an athlete in history.
As part of Apple's $3bn purchase of Beats Electronics, he would receive $30m from his stake, according to ESPN.
He is hitting his financial prime, too.
His earnings last year were $72.3m, with only boxer Floyd Mayweather ($105m) and football's Cristiano Ronaldo ($80m) collecting more.
The Decision 2.0, as it is being called, is as much about finance as geography.
James could sign a four-year deal for an estimated $98m with any suitor except Miami.
Because NBA rules value players returning to their current teams, he could also sign a maximum five-year deal worth an estimated $127m with the Heat.
And what might Miami's two other star players, Wade and Bosh, do?
Wade opted out of his Miami contract on Saturday, with reports that Bosh will soon follow suit.
The three were spotted having dinner on Wednesday at a South Beach restaurant, again sending the social media world into a tizzy.
Their contracts combine for $61m for this coming season - or just below the $63m salary cap.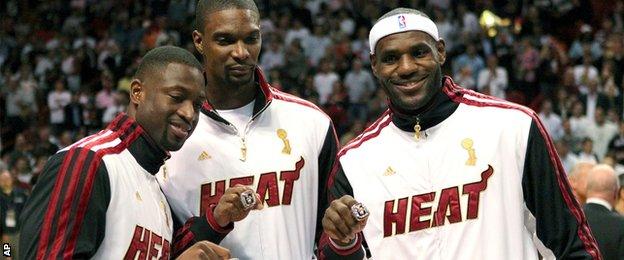 However, if Wade and Bosh re-sign for less money, it would allow Miami the financial flexibility to add enough new players to compete for another championship.
Then James could be tempted to stay.
Of course, James can set his price within the allowed limits and most teams would gladly pay it.
Think Messi on the open market.