Worcester Wolves will be just as strong this season - Paul James
Last updated on .From the section Basketball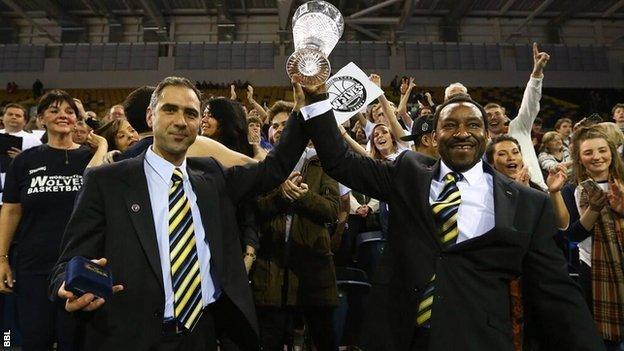 Worcester Wolves head coach Paul James is confident they can be as successful as last season despite the loss of key guard Zaire Taylor and likely departure of forward Will Creekmore.
Taylor, 27, and 24-year-old Creekmore played vital roles as Wolves won the BBL Trophy and Championship play-offs.
Taylor has joined London Lions while Creekmore is set to move abroad.
"I'm pleased with how the team's looking. I can assure you we'll be very strong again next season," James said.
"We're trying to keep as many of the core together as we can; I certainly think three of the five will be back.
"It's always very difficult to keep players, particularly after you've won something," he added to BBC Hereford and Worcester.
American Taylor was named the game's Most Valuable Player in Wolves BBL Championship Play-off win over Newcastle Eagles in May and also picked up the MVP award for his performances throughout the league campaign, where he averaged 19 points per game and lead the lead in assists and grab rebounds.
"Zaire did really well for us and we wish him well moving forward," James said.
"He's the kind of guy that wants to go to a club and make them better so I'm pretty sure that was in his mind - London haven't won anything in a long, long time."
Creekmore was the leading points scorer in the BBL Championship in 2013-14 and also led the way in rebounds.
But the American's studies at the University of Worcester meant James was aware the player was unlikely to stay for a long time.
"We were very, very fortunate to get Will from the NBA Development League last year and he's a player that can play at a much higher level," James said.
"He's been fantastic for us but it was always going to be a one-year deal and if he's not back, he's certainly helping us find someone to replace him."
Wolves have just enjoyed their best-ever season under James, with March's BBL Trophy triumph the club's first piece of silverware in their history.
That proved a springboard to their Play-off success and James is hoping he can finalise his squad for the forthcoming season in the next few days.
"I've had players and agents calling and emailing me every day - my phone's blowing up," he said.
"It's a matter of sifting through all that and make sure we bring in the right player for this club and area.
"If a player's on about money to me then forget it. I like to call the players up and speak to them and get a feel for them.
"We've just had our best season ever and they'll be players out there looking for a challenge."
Wolves begin the new BBL Championship season at Newcastle Eagles on Friday, 26 September, in a repeat of the Play-off final.