Basketball: UK Sport's funding cut harming young people, say MPs
Last updated on .From the section Basketball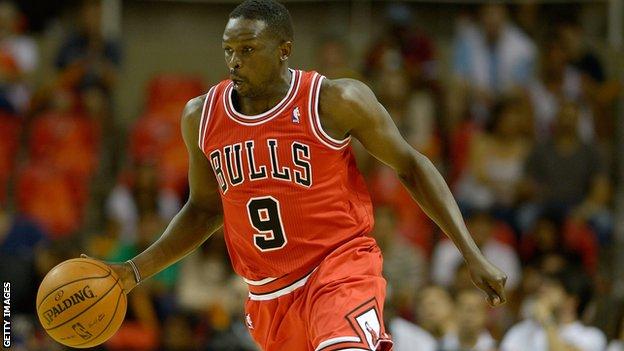 Young people's chances of escaping a culture of gang violence and knife crime have been harmed by a decision to cut elite basketball funding, MPs say.
But a parliamentary report found that basketball had an "extraordinary impact" in deprived UK communities.
"Gold medals are nice but this is about changing someone's life for the better," said Labour MP Sharon Hodgson.
"What basketball has over almost all other sports is its accessibility, its coolness, and its ability to provide a route out of gang violence and knife crime.
"It's my hope that this report provides the necessary spark for a radical rethink about what outcomes we want to see from the money we invest in sport, the value we invest in each and, therefore, how sport funding is allocated."
UK Sport's funding goes towards athletes targeting success at the Olympics - but at local and club level in England, financial support is provided by Sport England.
Olympic funding - the losers

2012

2016/2020

%

Basketball

£0 (but increased to £7m on appeal in 2013)

£0

-100%

Synchronised swimming

£4.3m

£0

-100%

Water polo

£4.5m

£0

-100%
A Sport England spokesman said it recently increased its funding for basketball to £9m over four years.
He said: "We submitted written evidence to the basketball inquiry and welcome the final report. We will look at the recommendations made in the report and respond to it in due course."
Basketball is the second largest team sport among 14-16-year-olds in the UK, and is played by nearly 218,000 people every week.
More than 100 British players - mostly from less-well-off areas - play in US and Canadian teams, including Great Britain forward Luol Deng, who joined Miami Heat this week.
The MPs' report added that basketball "should be supported as much as possible - and certainly more than other sports which can't boast the same impact."
UK Sport decided in February to withdraw its financial support for basketball - worth £7m over four years - with funding for synchronised swimming and water polo also cut to zero.
In a statement, UK Sport told the BBC that it is investing more than £385m in 45 summer and winter Olympic and Paralympic sports to ensure medal success at Rio 2016, PyeongChang 2018 and Tokyo 2020.
It added: "Sports that could not demonstrate a trajectory towards medal success by 2020 have had funding withdrawn."