Plymouth Raiders sign Emile Hopkins from Birmingham Knights
Last updated on .From the section Basketball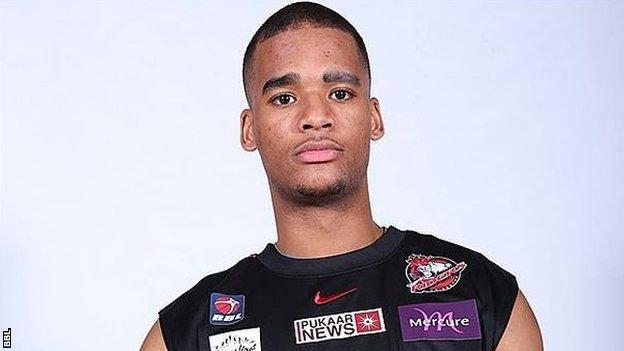 Plymouth Raiders have signed centre Emile Hopkins for the 2014-15 British Basketball League season.
Hopkins, 27, is the second player to join from Birmingham Knights this summer after guard Brent Benson agreed a deal in May.
Raiders coach Jay Marriott has now made nine signings for the coming campaign.
"I'm extremely happy to have the opportunity to play for such a great organisation and cannot wait to meet the legion of fans," said Hopkins.
Despite a disappointing season for Knights, who exited the BBL having lost all 33 of their fixtures, 2013-14 saw Hopkins lead his team in blocked shots and earn his first senior international cap for England - achievements which caught the eye of Raiders head coach Marriott.
"I've known Emile for a long time," he said. "Last season he showed his toughness and work ethic by becoming the team's leading rebounder, but I also feel personally that he can develop his game further.
"Especially considering the athleticism and desire he has shown throughout his career."
Plymouth Raiders' signings for 2014-15
Daveon Boardingham (from Southern Mississippi)
Gerald Robinson (from Hottur, Iceland)
Kris Douse (from Limburg, Germany)
Brent Benson (from Birmingham Knights)
Josh Wilcher (from Reading Rockets)
Nick George (re-signing)
Louis Sayers (re-signing)
David Evans (from BYU-Hawaii)
Emile Hopkins (from Birmingham Knights)
Marriott is hopeful new signing Emile will bring much-needed height and personality to the Plymouth team.
"I felt it was important to add some more size in the front court and someone who will fight for minutes," added Marriott.
"One of his biggest attributes is his outstanding character and he will no doubt be a big personality in the locker room."