Ricky Taylor: The basketball player and licensed minister
Last updated on .From the section Basketball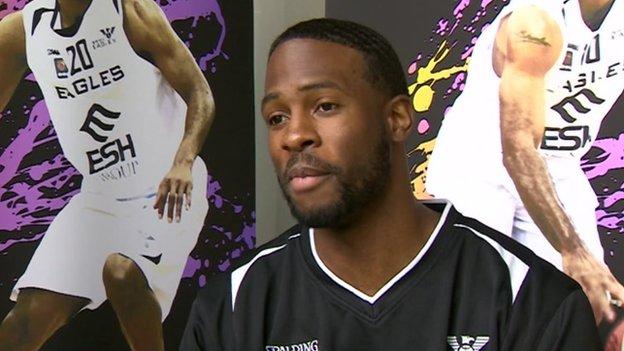 "I'm not just a basketball player, I preach."
Meet Ricky Taylor, a licensed minister and summer signing for British Basketball League side Newcastle Eagles.
The 24-year-old shooting guard spreads the gospel in his home state of Tennessee with a basketball ministry aimed at helping children through faith and sport and he has also travelled Europe to pursue a sporting career.
Taylor, who also runs his own tax return company as a qualified accountant, has a natural enthusiasm, particularly for his faith.
After he was "saved", as he describes finding God, at the age of 10, the Brownsville native became a minister aged just 18.
"I gained a lot of confidence, particularly in speaking," he told BBC Sport ahead of the new BBL season, which starts on Friday.
"I was quiet but internally I was loud, like a volcano waiting to erupt.
"When I did my first sermon, everybody came to me and said 'I thought you were quiet' but it was inside of me the whole time."
Taylor happy with pressure of performance
Whether he is on court, or at the pulpit, Ricky Taylor says he can cope with the focus of a big crowd in which to perform before.
"There's no pressure at all," he said. "I'm very comfortable speaking, it was inside me and just had to be released. Basketball feels natural now because I've been doing so long."
What also lay inside Taylor was a gift that led him to college basketball in his home state with Chattanooga and European experience with Finke Paderborn in Germany.
"God gave me the gift to play basketball, but I can be spiritual all day if I want to but it won't make me better on a basketball court," he said.
"I have to go to the gym, go out there and work on my game.
"I gained confidence in my game playing against older people, I was playing against grown men when I was in middle school.
"I played against my dad who was an All-State Basketball player; that was the biggest confidence because when I could beat him I thought I could beat anybody."
Here in England his mission will be to guide the Eagles to success in an expanded BBL Championship and cup competitions.
Leeds and Bristol have been added to the ranks after Birmingham's departure, with Newcastle chasing their 19th piece of silverware since joining the league in 1996.
"I decided to come because of the winning tradition," Taylor added.
"It's the kind of team I want to be a part of, for the team and city to want to win, I'm in love with it."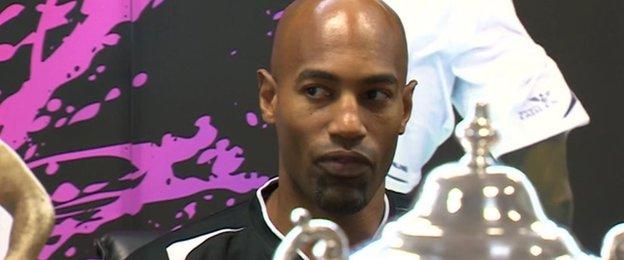 The man responsible for bringing Taylor to Tyneside, coach Fabulous Flournoy, has made an equally strong impression.
Flournoy, 41, has led the Eagles to two 'clean sweeps' since arriving in 2001 and was a major persuasive factor in the move.
"He's very inspirational," Taylor added.
"When we first had a conversation on the telephone he captured my attention immediately.
"Eagles had a rich tradition but I knew he was a coach who studied and analysed the game, he's been there, done that.
"He's still playing and that speaks volumes. I'm really inspired by him, he's intelligent and I respect that.
"I appreciate him for taking time with me individually."
Last season's relative disappointment of final defeats in the BBL Play-offs and BBL Cup was tempered only by regular season league success.
The roster has been tinkered with this summer, with Taylor arriving, Andrew Thomson's returning to the Eagles roster and the addition of point guard Rahmon Fletcher, while familiar faces Charles Smith, Darius Defoe and Drew Lasker all remain.
"I love my team-mates," Taylor added.
"We all have the same goals, we want to win as many championships as we can.
"I've never felt this way, I feel a family-orientated team here, they're all like my big brothers."
The BBC Sport website will be covering the BBL Championship this season with exclusive news and quotes from around the league after each round of fixtures.