Women's basketball: New league offers hope for professional game
By Jessica Creighton
BBC Sport
Last updated on .From the section Basketball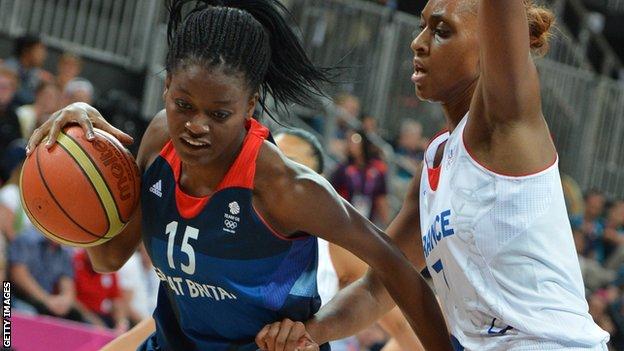 Basketball in the UK has not had much to shout about in recent years.
The British men's and women's team managed just one win between them in 10 matches at their home Olympics two years ago. As a result, the sport's £8m Olympic programme was then wiped out by elite funding agency UK Sport.
There was more gloom when the men's team failed to qualify for next year's European Championships.
But there are sunnier days ahead it seems - for the women, at least. Their elite league has been rebranded and now falls under the stewardship of the men's British Basketball League (BBL). Not groundbreaking in itself, but the plan is to make the Women's British Basketball League (WBBL) professional in the next five years.
Currently, the most talented British players head off to the United States with hopes of playing in the star-studded professional Women's National Basketball Association (WNBA) or to the professional leagues in Europe.
But the WBBL could potentially provide somewhere to nurture home-grown talent in years to come if organisers' plans to have full-time paid professional players come to fruition.
The limited money in UK women's sport means turning fully professional is a difficult proposition for any sportswoman - even in football and netball, the biggest team sports for women in the UK. So for a sport that is currently without funding at the elite level, the WBBL's plans are certainly ambitious.
But it's a step in the right direction, says Manchester Mystics' Julie Page. "If we don't have high expectations and aspirations, then who will?" she asks BBC Sport at a bustling Mystics training session.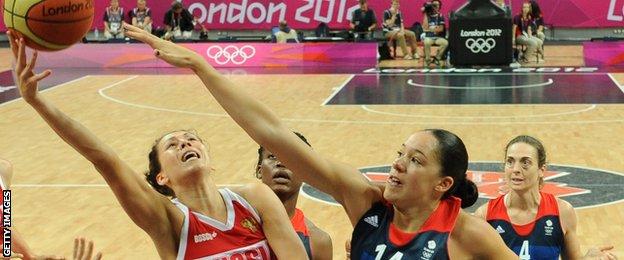 "In the past it's been a lot about playing the sport and everybody getting involved, which is fantastic. With the new WBBL and our new mentality, we still want everyone to be able to take part but we want an elite women's team there as well."
The Mystics train two or three times a week at the Amaechi Basketball Centre in Manchester and it is a hive of activity. Women's, men's, girls' and boys' teams all use this facility on a daily basis. It is indicative of the thriving grassroots participation that basketball enjoys - including not only a healthy gender split, but also a better ethnic minority take-up than many other sports.
Though deprived of elite funding, the sport will receive £9m from Sport England between 2013 and 2017 at the grassroots level - an increase of just over £2m on the previous funding cycle.
And it sees a solid return on that investment with one of the best participation levels among young people. According to the latest Active People Survey from the funding agency, 172,000 14-25-year-olds play the sport at least once a week, surpassed only by football among team sports.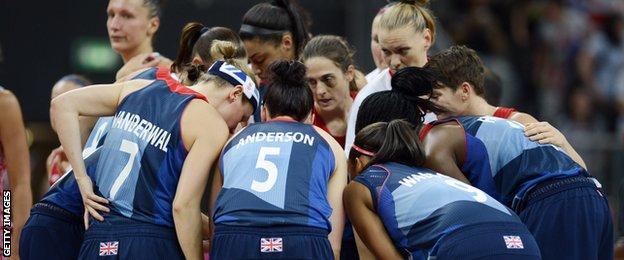 Research from the All Party Parliamentary Group on Basketball found that 42% of basketball players in England were from ethnic minorities, while it's estimated just under 20% are female. These enviable statistics have provided the sport with firing power as it attempts to lobby UK Sport to reinstate its elite funding.
"The sport has a unique ability to target some of the hardest-to-reach individuals and get them engaged in sport," said the commercial director of the BBL and WBBL David Leyden Dunbar.
"There has to be an intervention at the highest level of government because we're sending mixed messages to the youth of today. We bandy about words like 'legacy' and say, 'you should aspire to be the best you can in whatever sport you choose' - but with basketball there's going to be a ceiling because you get to a certain point where you can go no further and you should change your dreams and start looking at sailing, hockey or whatever it might be."
Both netball and women's football have benefited from more professional, business-like leagues in recent years. The Football Association's franchise model Women's Super League was set up to make the sport more commercially viable and has resulted in a much more competitive league that is far better attended.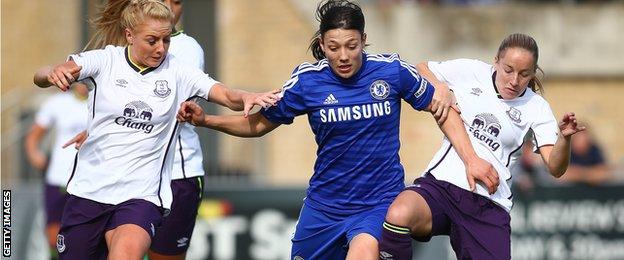 Netball's Superleague underwent a revamp when it signed a major television deal in 2006. The increased exposure, along with more commercial partners and a more organised set-up, has helped the sport no end.
England netball captain Pamela Cookey told BBC Sport: "The new Superleague has had an amazing impact on the standard of our netballers. It's provided competitive matches week in week out, where players have to step up to perform. It's had a big effect on the England team."
But there is still much to be done before women's basketball follows suit. The previous elite league was only watched by a handful of fans at each game, and without any TV coverage planned, the WBBL could find it difficult to attract bigger numbers. There will now be an entrance fee too, whereas games in the old league were free.
"The new league isn't going to solve all the problems," said the Mystics' Nicola Welling, who has played at the top level for 10 years. "But the new league is attracting some better players. Hopefully that will raise the standard and help British players improve."
"I'm hoping we're going to get a bit more promotion and get more people aware of women's basketball, especially being linked with the men's BBL."
The WBBL season tips off on Saturday in Loughborough, with organisers billing it as an "historic new chapter" for women's basketball in the UK.