BBL seeks legal advice over Basketball England statement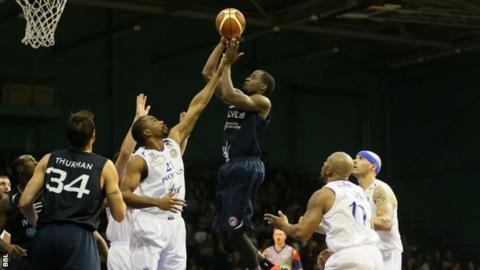 The British Basketball League (BBL) is seeking legal advice over a statement from the domestic game's governing body which appears to raise doubts over the continuation of the league's licence.
Basketball England said a "licence review committee has been set up to consider all options" before existing contract arrangements are renewed.
But the BBL says it was not advised of the release in advance.
The BBL has run professional basketball in England since 1987.
The league's Championship features 13 franchises, who also compete for the BBL Cup and BBL Trophy.
Basketball England released a statement on Tuesday, saying: "A licence review committee has been set up to consider all options including but not limited to a competitive tender process and negotiation with the existing licensee of the professional basketball league, with a view to renewing existing arrangements."
But in response, the BBL said it was taking "further advice", and added: "The BBL also does not believe the process set out by Basketball England is credible, or contractually compliant, or has the options implied.
"BBL is disappointed its governing body put this matter into the public domain, because of the inevitable damage to the sport.
"BBL is awaiting a response to a letter sent to Mr [Jan] Hagen, the chairman of BE on 29 December 2014."