2015 Island Games basketball: Jersey face Gibraltar and Gotland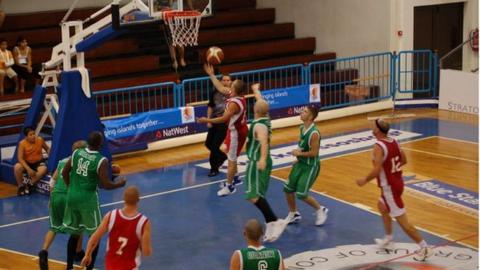 Hosts Jersey will face Gibraltar and Gotland in the group stages of the 2015 Island Games basketball event.
Thursday's draw also pitted reigning champions Bermuda against the Cayman Islands and Froya.
Guernsey will play Menorca and the Faroe Islands, while 2013 finalists Saaremaa have been drawn against the Isle of Wight and the Isle of Man.
competition two years ago.
Island Games 2015 men's basketball groups
Group A: Saaremaa, Isle of Wight, Isle of Man
Group C: Menorca, Guernsey, Faroe Islands
Group B: Gibraltar, Jersey, Gotland
Group D: Bermuda, Cayman Islands, Froya
Bermuda's men retained their title, convincingly beating the only other team to take part, Saaremaa, 61-38 in the gold medal match.
Meanwhile, Jersey and Guernsey's women have been drawn against each other, along with Menorca and Gotland.
The other women's group includes Gibraltar, Bermuda, the Isle of Man and the Cayman Islands.
Island Games 2015 women's basketball groups
Group A: Menorca, Guernsey, Jersey, Gotland
Group B: Gibraltar, Bermuda, Isle of Man, Cayman Islands
Jersey Basketball Association president Rob Honey told BBC Radio Jersey: "Our ladies team haven't been represented at previous Island Games, so it will be a great experience for them to play the calibre of teams like Menorca and Guernsey.
"The men's draw looks very positive and I think we've got a very favourable draw.
"We will certainly hope to make it out of the group stage and into the quarter-finals. Anything after that would be a bonus."
The Island Games have taken place biennially since the first in the Isle of Man in 1985.
The Island Games run from Saturday, 27 June to Friday, 3 July.