NBA All-Star Damian Lillard praises Englishman Joel Freeland
Last updated on .From the section Basketball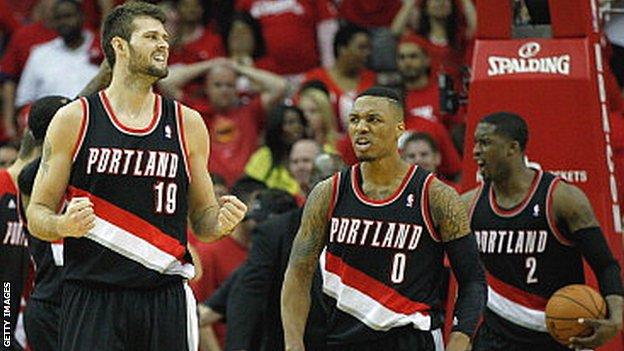 NBA All-Star player Damian Lillard has praised the selflessness of English team-mate Joel Freeland.
Lillard will represent the Western Conference during the NBA All-Star game at Madison Square Garden, New York on Monday, 00:30GMT.
But Lillard reserved praise for Portland Trail Blazers centre Freeland, 28, who is one of only three English players currently playing in the NBA.
"He does whatever the team needs," said Lillard, 24.
"He's one of those guys who has a lot of ability. You see it in practice and pick-up games.
"But he sacrifices some of the things he's capable of as he knows what we need from him. It takes a great person to do something like that."
Lillard faces an Eastern Conference squad boasting LeBron James and Dwyane Wade.
Cleveland Cavaliers star James added: "I enjoy being a part of All-Star weekend because of the fans, this is the biggest event for our league."