Leeds Force beat Cheshire for first win over a top-four team
Last updated on .From the section Basketball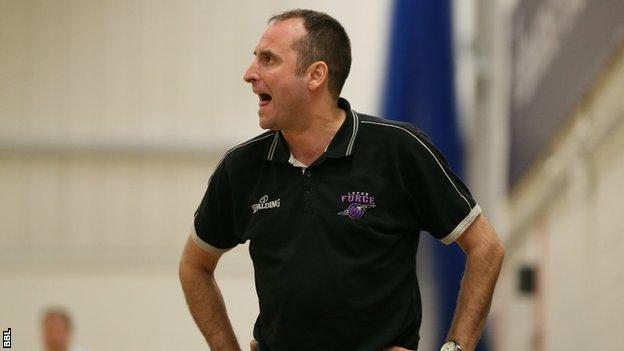 Leeds Force beat Cheshire Phoenix 78-76 to record their first win against a top-four side in the team's history.
Leeds were led by guard James McCann, who topped the scoring with 25 points.
Force were leading by 21 points in the fourth quarter, but had to cling on at the end as Cheshire reduced the deficit to just one in the final minute.
"We have maybe found a bit more self-belief and the result endorses the hard work that the boys and coaches have put in," said Leeds coach Matt Newby.
"The run-in to the close of the season is one where we can take more games and if we continue to work on it game-by-game, we might surprise a few people where we finish."
Sunday's win followed a heavy defeat two days earlier against Leicester Riders, who kept up their Championship hopes with a three-point victory over Durham Wildcats on Saturday.
BBL Championship Results
Friday, 20 February
Leeds Force 50-76 Leicester Riders
Glasgow Rocks 72-64 Sheffield Sharks
Newcastle Eagles 94-87 London Lions
Surrey United 81-109 Cheshire Phoenix
Saturday, 21 February
Leicester Riders 84-81 Durham Wildcats
Bristol Flyers 88-84 Plymouth Raiders
Sunday, 22 February
London Lions 104-65 Surrey United
Durham Wildcats 73-84 Bristol Flyers
Glasgow Rocks 89-60 Worcester Wolves
Cheshire Phoenix 76-78 Leeds Force
Bristol Flyers consigned the Wildcats to another defeat on Sunday, having previously taken the two points in a close contest against BBL Trophy semi-finalists Plymouth Raiders the day before.
Leaders Newcastle Eagles beat London Lions in their only fixture of the weekend on Friday night to stay six points clear at the top of the table, but the Lions bounced back by cruising past Surrey United on Sunday.
It was another disappointing weekend for bottom side United, who had already been soundly beaten by Cheshire on Friday despite 37 points from Dominique Coleman.
But there was better news for Glasgow Rocks, who followed up a come-from-behind victory over Sheffield Sharks with a 29-point win over third-placed Worcester Wolves.
In the WBBL, league-leaders Sheffield Hatters extended their winning streak to 14 games with victory against Barking Abbey Crusaders behind 27 points from Steph Gandy.