Leicester Riders 'came close to losing' Rob Paternostro
Last updated on .From the section Basketball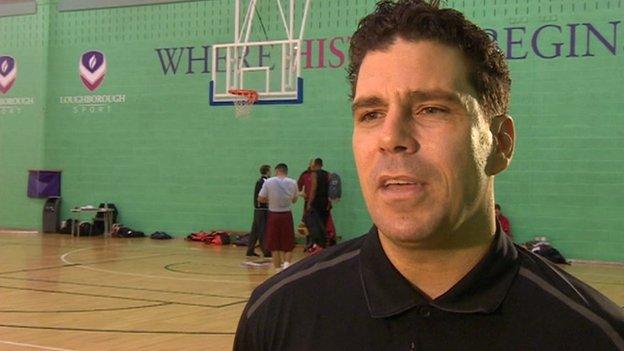 Leicester Riders managing director Russell Levenston has admitted the club nearly lost head coach Rob Paternostro to US college basketball.
Paternostro signed a four-year contract extension last summer to keep him with the Riders until 2018.
However, Levenston told BBC Radio Leicester the club had to fight off interest from the States.
He said: "Big USA colleges came in to talk to him and we came close to losing him, but he's a loyal man."
Paternostro, 42, has been with the Riders since 2008 and is the most successful coach in the club's history.
The Riders, who won the BBL Cup last term and won a domestic treble the previous season, have already qualified for the final of this season's BBL Trophy.
They also lie third in the BBL Championship
Levenston added: "He's had a lot of interest, with big US colleges wanting to talk to him.
"But Rob has always bought in to where we're trying to go to with the club, and to the new facility, and the plan to play in Europe, and he wants to be a big part of that.
"We've come quite close to losing him a couple of times, but he's been very loyal and long may that continue."