Basketball could receive UK Sport funding boost

By Dan Roan
BBC sports editor
Last updated on .From the section Basketball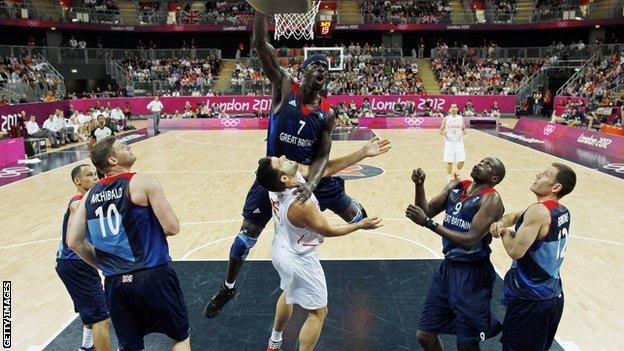 Basketball could receive a financial boost as part of a new funding strategy set to be announced by UK Sport on Thursday.
The BBC understands the government agency will continue to focus on sports with genuine medal prospects.
But for the first time - and following public consultation - participation rates will also be taken into account.
The new strategy will apply following next year's Olympic Games in Rio de Janeiro.
UK Sport invests £100m of National Lottery and government money into high-performance sport annually.
Its funding criteria is currently based purely on performance and has helped Britain move from 36th in the Olympic medal table at the 1996 Games in Atlanta to third at London 2012 with 65 medals.
Kieron Achara on the problems GB basketball players faced in qualifying for EuroBasket 2015
"It has been a battle mentally as well as physically. We didn't know exactly what the extent of the sacrifice was going to be. We are getting £15 a day. We are sleeping in dorm beds. We've had some guys whose feet were dead when they woke up because they'd been hanging out of the end of the bed."
But there has been criticism of this approach, especially from sports such as basketball, whose governing body has accused UK Sport of discriminating against team and emerging sports.
Last year, funding was controversially stopped for basketball and six other sports, including water polo and synchronised swimming, because they stood little chance of winning medals at Rio or the 2020 Games in Tokyo.
The immediate future of Britain's basketball teams, who managed just one win between them in London, was secured in November thanks to £1.8m of emergency public funding following government intervention.
But UK Sport has been criticised for failing to recognise basketball's popular appeal among young people, while rewarding a number of so-called 'elitist sports', whose participants are largely drawn from the private school system, or which have small bases of participatory support.
Rowing, sailing, equestrianism and modern pentathlon, for example, had funding increased for 2013 to 2017.
Yet basketball is the second biggest team sport among 14 to 16-year-olds in the UK and is played by nearly 218,000 people each week.
In October, UK Sport chief executive Liz Nicholl told the BBC: "We really do want to listen.
"We are not arrogant enough to think that we know how to do everything best."
She suggested there may now be a shift in emphasis, with participation rates possibly considered when it comes to funding.
"One of the points raised by our board is a strong view that we should aim to drive more impact from what we do," she said.
"The impact isn't just in creating the medals and the medallists. It is also through inspiring the next generation to participate in sport and promoting equality and diversity."
Last year, the House of Lords' Olympic and Paralympic Legacy Select Committee reported that "the 'no compromise' approach of UK Sport has delivered medals for Team GB and has clearly improved top end performance".
But it added that the approach "has an inherent bias against team sports and fails to help emerging sports, some of which, such as handball and volleyball, generated real enthusiasm at London 2012".
Grassroots sport agency Sport England its also due to announce its latest round of funding on Thursday.
In January, it revealed the number of people participating regularly in sport had fallen by 125,000 to 15.6m.
Swimming had seen a 245,000 fall in participation numbers over the last year and is expected to be financially penalised as a result.