BBL Championship: Drew Sullivan stars in London Lions victory
Last updated on .From the section Basketball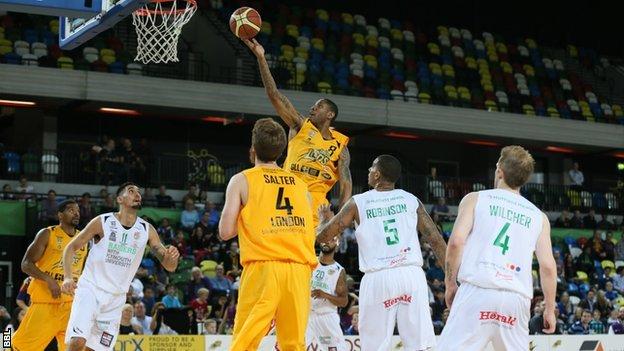 Great Britain captain Drew Sullivan starred as London Lions overcame Worcester Wolves 88-70 on Sunday to secure a third straight win.
Sullivan had 22 points and 12 rebounds in Lions' latest success, which followed an 85-63 defeat of Bristol Flyers on Saturday.
Sheffield Sharks beat Glasgow Rocks to secure their fifth straight win.
"Our goal is to keep playing good basketball as we approach the play-offs," said Lions coach Vince Macaulay.
"We are all beginning to concentrate on our individual jobs. Earlier in the season we were too concerned about what the next person was doing.
"The atmosphere is different in the locker room, and the atmosphere among the fans is different as well."
BBL Championship: Round 27 results
Thursday, 26 March
Plymouth Raiders 94-87 Durham Wildcats
Friday, 27 March
Leeds Force 54-84 Worcester Wolves
Sheffield Sharks 91-88 Glasgow Rocks
Newcastle Eagles 101-62 Surrey United
Saturday, 28 March
Surrey United 73-76 Leeds Force
Bristol Flyers 63-85 London Lions
Leicester Riders 106-86 Plymouth Raiders
Sunday, 29 March
London Lions 88-70 Worcester Wolves
Durham Wildcats 67-75 Plymouth Raiders
Glasgow Rocks 68-77 Cheshire Phoenix
Manchester Giants 87-117 Newcastle Eagles
Sharks are another team who have not yet reached their potential this term but are now hitting their stride.
Atiba Lyons' side won their fifth consecutive game by ending Rocks' six-match winning run, before the Scottish club lost to Cheshire Phoenix on Sunday.
Newcastle Eagles continue to close in on the BBL Championship, moving on to 18 straight wins after beating Surrey United and Manchester Giants, hitting three figures in both contests.
United also lost out to Leeds Force, who had come up short against Wolves on Friday.
Plymouth Raiders ended a six-game slide with two wins against Durham Wildcats, either side of defeat at Leicester Riders, which included 26 points from Tyler Bernardini.
The battle for the WBBL Championship title came right down to the last game of the season as the top two met on the final day.
Sheffield Hatters added the inaugural league crown to their WBBL Trophy triumph, with GB's Steph Gandy instrumental in the crunch match against Nottingham Wildcats, scoring 20 points in a 74-64 win.