Sheffield Hatters beat Nottingham to win inaugural WBBL Play-offs
Last updated on .From the section Basketball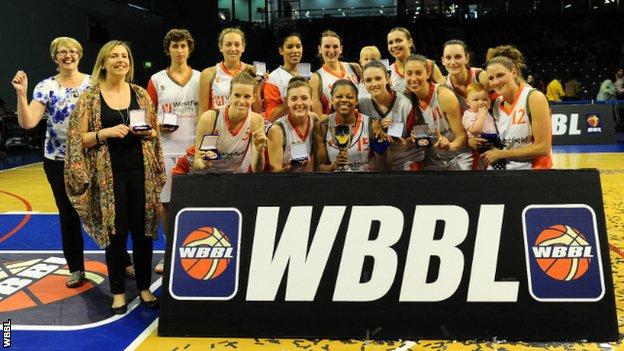 Sheffield Hatters completed a clean sweep of silverware in the inaugural WBBL season with an 84-69 Play-off Final victory over Nottingham Wildcats in Worcester on Sunday.
Wildcats led late in the third quarter, only for Hatters to respond with quick scores either side of the quarter break to regain control.
Sheffield's Helen Naylor was named MVP following a 30-point performance.
Vanessa Ellis' side also beat Nottingham in the WBBL Trophy final.
And they emerged victorious from their WBBL Championship final-day decider earlier this month.
"It's a great way to finish," said Naylor.
"We really stepped up our defensive effort in the second half, ran the floor well, subbed and we have a deep bench and we just continued running the floor and attacking the rim and they just couldn't stop that in the end.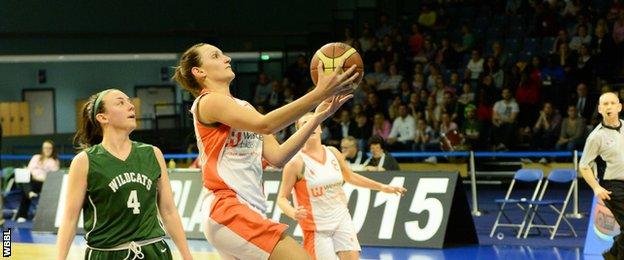 "We dipped a bit in the third quarter and picked it back up in the fourth.
"You always want to play the best team in the final, the last game, and it has been a battle between us and Nottingham all season and we have come out on top more than we haven't.
"Going into the game having lost one against them and won three gave us a little bit of a psychological advantage. We went in without any pressure and it gave us a bit of an edge."
For Wildcats, it was a third runner-up finish of the season, and one which coach Dave Greenaway felt came down to lapses in concentration.
He said: "Once they regained the momentum and went off we were just never able to regain that momentum and get ahead, which was a shame.
"The effort was good, I just think our focus and concentration in terms of certain details throughout the game was lacking, especially in the latter parts of the third quarter and early part of the fourth quarter.
"Our goal was to be first, to win trophies and we haven't done that so it is a disappointing season."