Plymouth Raiders sign New Zealand forward BJ Anthony
Last updated on .From the section Basketball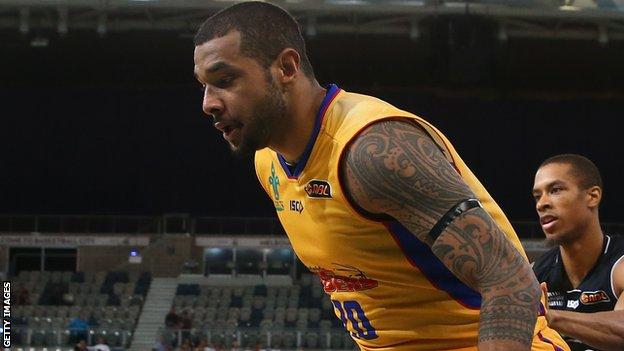 Plymouth Raiders have signed New Zealand international forward BJ Anthony for the 2015-16 BBL season.
The 27-year-old, who stands 6'7", played for the Adelaide 36ers in the Australian league in 2014.
Anthony had agreed a three-year deal with Auckland side Supercity Rangers last December, but ruptured his Achilles tendon in January which forced his planned move to be cancelled.
He has also represented his country at the last two FIBA World Cups.
Anthony holds dual-British and New Zealand citizenship, so does not take up one of Plymouth's three overseas player permits.
"He has great potential to lead our front line next season, and his experience with winning programmes and his opportunities in the last World Cup has made him an important signing for us," said Raiders head coach Jay Marriott.
"Add to that, a British passport and this makes BJ a very exciting signing for the Raiders."
Anthony commented: "I'm really excited about becoming part of the Plymouth Raiders.
"I want to get my career on track in Europe and I'm excited to see the country where my mother was born, having never been to England myself. I'm looking forward to a new chapter in my life and career and helping the Raiders win."