Plymouth Raiders: Australian centre Auryn MacMillan signs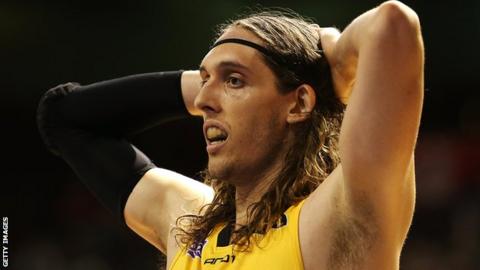 Plymouth Raiders have signed Australian centre Auryn MacMillan, who becomes their fifth signing of the summer.
The 28-year-old, who can also play as a power forward, was recommended to head coach Jay Marriott by fellow new Raiders signing Daryl Corletto.
"To say I'm excited about this upcoming season is a massive understatement," MacMillan told the club website.
"I think we're going to play an exciting brand of basketball and we should be championship contenders."
MacMillan, who stands at 6ft 9in, has spent the majority of his professional career in his home country, though has had a season in Germany.
Corletto, who played with MacMillan at Melbourne United, also identified BJ Anthony and Bennie Lewis as potential signings before they joined the Devon side.
"What sets him apart in my eyes is that he mixes talent with pure hustle and desire," added Marriott.
"Auryn's a highly intelligent player and his work ethic is invaluable to me."