Worcester Wolves: Only one player left from last season's squad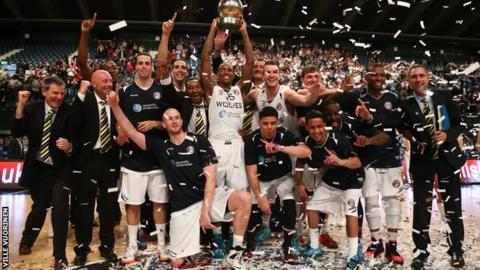 Worcester Wolves, basketball's double winners in 2013-14, have opted for a new look next season by retaining just one player from last term's squad.
Coach Paul James is keeping only 6ft 1in guard Disraeli Lufadeji, despite coming third in the BBL Championship, which the Wolves won the year before.
"It's a bit of a radical change," James told BBC Hereford & Worcester.
"We thought long and hard about our campaign last year and actually the last four or five years."
He denied the shake-up was too radical too radical as he is confident there are good players out there looking to make their mark in the BBL - and he plans to have the same mix of American professionals and European players supplemented by students at the University of Worcester next season.
Analysis
"Eyebrows would have been raised around the BBL when it was announced that all but one of last season's squad were leaving the University Arena. If 2014-15 had been a disaster, perhaps this might have been expected, but their reputation was further enhanced with a third-place Championship finish. The club's board have decided the time has come for a shake-up, however, so it will very much a new-look Wolves that takes to the floor in September."Trevor Owens (BBC Hereford & Worcester sports editor)
"I don't think we're throwing the baby out with the bathwater," said James. "Alex Owumi has had three fantastic years with us, but sometimes it is time for change. Time for people to move on.
"Jamal Williams we wanted back, but he's decided he had such a good season that he's looking to play elsewhere in Europe and I can understand that. We were looking for a different look in some of the other positions anyway so, when I look at it in the cold light of day, it's probably not as extreme as people might think.
"We've made some massive strides in the league and would like to think we have become one of the top four teams.
"We had a very good squad last year but it just didn't come together at the right time when we needed it to and certainly the way we went out of the play-offs didn't help anybody. We just thought: 'Let's try and revitalise the whole thing' and so we rebuild and start again."