Jason Day's wife absolves LeBron James of blame after collision
Last updated on .From the section Basketball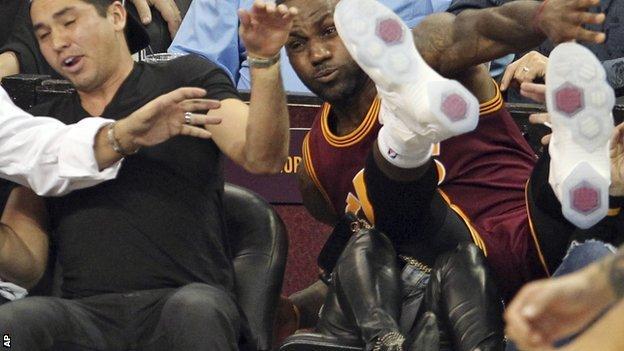 Ellie Day, wife of world number two golfer Jason, compared her collision with LeBron James to being "hit by a truck" but absolved the Cleveland Cavaliers superstar of any blame.
James accidentally injured Ellie when he was chasing a loose ball and ran into her while she was sat in the courtside seats next to her husband.
She was taken to hospital in a neck brace, but was released on Friday.
"Firstly, I am okay!! I am incredibly sore and exhausted," Ellie said.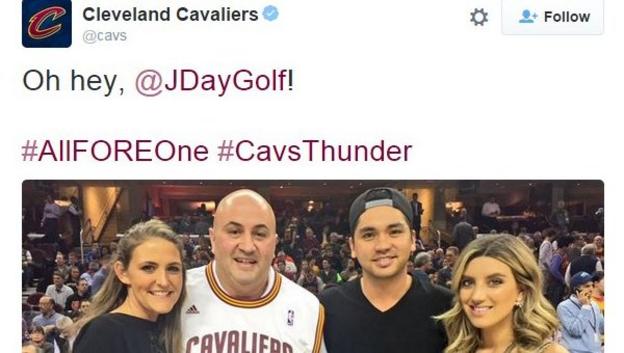 "Being tackled by that large man I would compare to a minor car accident. My head and neck hit pretty hard so it was really scary.
"My whole body feels like it was hit by a truck."
Ellie also defended her husband from claims he should have done more to protect her.
"If he had had time to react, so would have I. Also, I would not have liked both dudes landing on me," she said.
"LeBron is huge and had such momentum he could not have stopped.
Ellie added: "Much like attending a golf event and risking getting hit with a ball, sitting courtside you risk getting run into.
"I would never make anything more of it. They're huge men doing their job. I was stabilised because I smashed my neck and head and obviously it was with great force."
Cleveland Cavaliers won the game against Oklahoma and James later tweeted his apologies, adding he hoped that the Days "would come back to another game soon".
"I squeezed her hand and she said she was OK," said James, who weighs 113kg (17st 11lbs), after the match.
Jason, who won his first major with victory at the US PGA Championship in August, lives with his wife and their two children in nearby Columbus.
Earlier in the match he had taken part in an on-court promotion during a timeout, chipping foam basketballs into the crowd.