Golden State Warriors: Stephen Curry's side need four wins for NBA history
Last updated on .From the section Basketball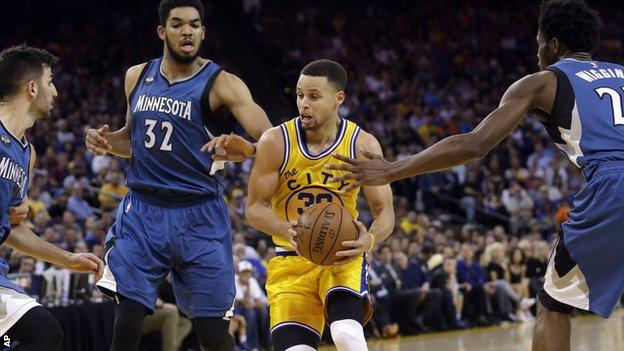 The Golden State Warriors must win their four remaining regular-season matches to make NBA history after suffering a surprise defeat on Tuesday.
The Warriors are chasing the Chicago Bulls' record of 72 regular-season wins but blew a 17-point lead to lose 124-117 to the Minnesota Timberwolves.
Golden State made 24 turnovers, while Stephen Curry missed 18 of 25 shots.
The Western Conference leaders have 69 wins, with two games against second-placed San Antonio Spurs to come.
The Chicago Bulls side of 1995-96, who set the record with Michael Jordan, Dennis Rodman and Scottie Pippen in their line-up, are also the only team to have recorded 70 or more regular-season wins.
Curry's side also lost on Saturday, when defeat by the Boston Celtics ended their 54-match home winning streak - the longest in NBA history.