Golden State Warriors beat Oklahoma City Thunder to set up game seven decider
Last updated on .From the section Basketball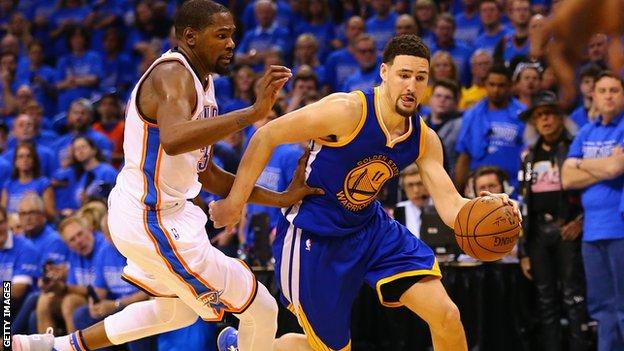 Golden State Warriors beat hosts Oklahoma City Thunder 108-101 to force a decider in the best-of-seven Western Conference final.
Klay Thompson led a fourth-quarter rally scoring an NBA play-off record 11 three-pointers and a career play-off best 41 points.
The winner of Monday's game seven at Oakland will face the LeBron James-led Cleveland Cavaliers in the NBA finals.
The Cavs beat Toronto Raptors 4-2 in the Eastern Conference.
After surrendering a 3-1 series lead, the Thunder must win on a court where the Warriors have lost only twice all season.
Thompson said. "We were down almost the whole game. We never gave up and our resilience got us through. We kept our composure. We knew if we didn't get it done we were going home."
Steph Curry, named the NBA's most valuable player, also played a key part in the Warriors' victory, adding 29 points - 10 rebounds and nine assists.