Great Britain 71-83 Netherlands: GB suffer fourth summer loss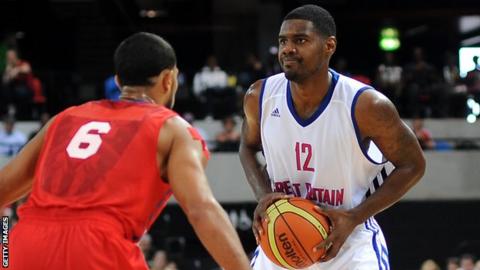 Great Britain lost for the fourth time this summer, 83-71 to the Netherlands, in a game of huge score swings in Manchester.
GB lost the second quarter 27-2 but won the third 23-7, then saw their comeback stall in the last three minutes.
Kyle Johnson and Gabe Olaseni top-scored for GB with 13 points, while Ben Gordon and Kieron Achara added 11.
This weekend's games are GB's last before starting their EuroBasket qualifying campaign in Hungary.
With Olympians Dan Clark and Andrew Lawrence watching from the sidelines, GB coach Joe Prunty's side struggled after making a bright start in the first quarter.
GB play the the Dutch again in another friendly on Saturday, before facing Hungary in their first EuroBasket qualifier on Wednesday.
Both Clark and Lawrence are likely to return for the second game and will be among the squad that will travel to Hungary.