British basketball ignored by funders in favour of "obscure" sports, says Temi Fagbenle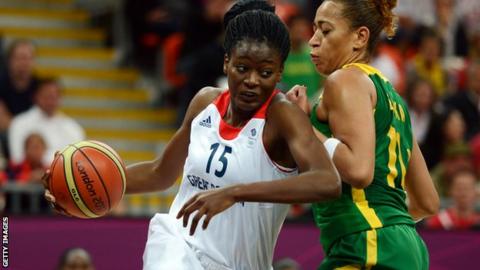 "Obscure" sports that "aren't popular in working-class communities" are prioritised when it comes to funding, says Great Britain's Temi Fagbenle.
Minnesota Lynx's Fagbenle, 25, says it is "crazy that sports like skeleton get millions", while British Basketball gets no UK Sport funding for its sides.
British Basketball say more than 55% of those in the sport are of black, Asian, and minority ethnic (BAME) backgrounds.
"I feel like they are trying to rip the GB shirts off our backs," she said.
"Just look at the athletes on the basketball teams - a lot of us are from ethnic minorities and/or grew up in working-class households.
"When I see sports like modern pentathlon and skeleton get millions of pounds, I wonder what sort of world the powers that be are living in and what agenda they are trying to push.
"Young people in general aren't inspired by obscure sports that are completely alien to them. They are inspired by athletes they can relate with."
British Basketball statistics also state that 17% of Basketball England members are located in the 20% most deprived areas in the country.
Furthermore, the organisation's boss, Lisa Wainwright, has warned the country's eight senior and age-group teams will have to be wound up unless they receive further financial support.
"From April, we have about £100,000 guaranteed via the British Basketball League," she said. "We need £1m to fund our eight teams for a year. That's between 100 athletes.
"If we don't find this money, the teams will be suspended for two years and then demoted to the bottom rung in Europe. It will take about eight years to get back to where we are now."
What do the funding bodies say?
Sport England told BBC Sport they provided funding for the Great Britain team "on the agreement they would seek alternative investment" after UK Sport stopped funding the elite sides.
And, when they failed to find that money, they agreed to give a further £150,000 to allow the team to fulfil their forthcoming fixtures.
They also added that they have committed more than £6m to the sport's grassroots and talent programmes between 2017-2021.
A Westminster debate on the funding crisis is scheduled for Tuesday.
A UK Sport spokesperson said its government-approved remit is to fund sports with the "best prospect of winning medals" and basketball "has not provided evidence" that it can do so at Tokyo 2020 or Paris 2024.
They added that they "will keep this under review".
Modern pentathlon - an Olympic event that combines fencing, showjumping, shooting, swimming and running - will receive at least £5,5m from UK Sport before Tokyo. That figure could rise to about £6.1m.
At the Rio 2016 Olympics, there were four British athletes competing in modern pentathlon, with no medals won. Britain's last medal in the event was a silver at the London Games of 2012.