Basketball funding: Sports Minister Tracey Crouch holds 'positive' summit over funding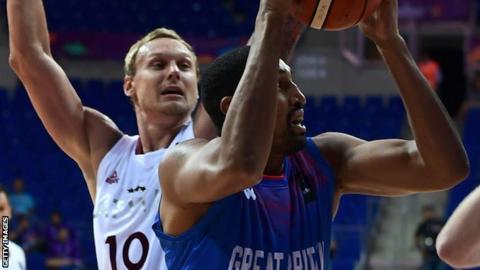 Sports Minister Tracey Crouch has held "positive and constructive" talks with British Basketball representatives about concerns over funding.
The meeting follows criticism that the sport received no funding from UK Sport and warnings that the national teams were on the point of folding.
Crouch called an 'emergency summit' with the likes of UK Sport, GB Basketball and Sport England present.
"We will continue discussions on this issue in the coming weeks," she said.
"Basketball is an important sport that does a great deal of good, particularly in inspiring people in urban areas to participate in sport.
"After listening to concerns about the future of Great Britain basketball teams, I hosted a summit with all parties to seek a solution. It was a positive and constructive meeting."
The British Basketball League, national basketball governing bodies, the International Basketball Association and MPs were also present at Crouch's summit.
UK Sport, which oversees funding for elite competitors, does not fund basketball because of a lack of medal-winning potential, although grassroots funding body Sport England will provide £4.73m over four years from 2017 to 2021.
Sport England also funds the sport's elite-level teams in order to aid the "inspirational impact" a national team can have on grassroots players.
But there has been anger from some that sports with lower participation levels than basketball are being funded by UK Sport.
Last month, Great Britain women's international Temi Fagbenle accused those in charge of funding of favouring "obscure sports" over "working class" basketball.
British Basketball says more than 55% of those in the sport are of black, Asian, and minority ethnic backgrounds
UK Sport chair Dame Katherine Grainger has said she recognises the "wider impact" basketball has but pointed to its lack of medal prospects at the Olympic Games and the need to find "another way to fund them".