NBA: Boston Celtics to face LeBron James & Cleveland Cavaliers in Eastern Conference finals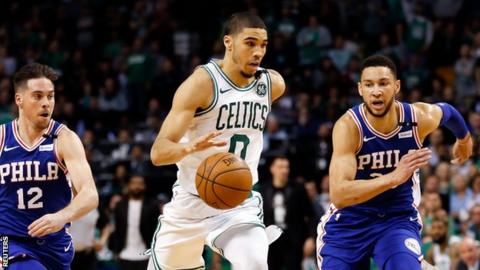 The Boston Celtics will face LeBron James' Cleveland Cavaliers in the NBA Eastern Conference finals after a 4-1 series win over the Philadelphia 76ers.
Jayson Tatum put Boston 111-109 ahead with 22 seconds left, before three free throws earned them a 114-112 victory.
"We've got a lot of heart and a lot of talent on this team, nobody expected us to get this far," said Tatum.
The Golden State Warriors meet the Houston Rockets in the Western Conference finals.
The Warriors, the reigning champions, reached the Western Conference finals for the fourth straight season as they completed a 4-1 series win against the New Orleans Pelicans with a 113-104 victory on Tuesday.
Houston beat the Utah Jazz 112-102 to also wrap up a 4-1 series win.
Houston and Golden State, the two top seeds in the Western Conference, begin their best-of-seven series on Monday.
The Celtics, seeded second in the Eastern Conference, begin their series against the fourth-seeded Cavaliers on Sunday.