WBBL: Sevenoaks Suns retain Play-offs title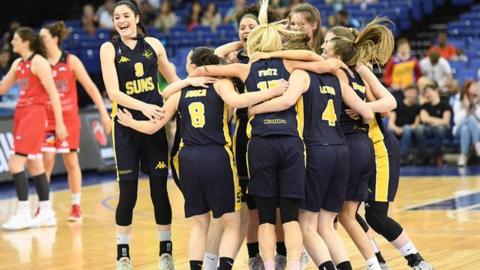 Catherine Carr hit 19 points as Sevenoaks Suns retained the WBBL Play-offs title, beating the Leicester Riders 69-44 at London's O2 Arena.
Chantelle Pressley added 12 points and Judit Fritz 10 for the for the Suns, who led from the start and never looked like giving up their title.
Leicester had 12 points from Holly Winterburn, but looked out of sorts in their first trip to the O2 Arena.
Carr, who added eight assists to her points haul, was named the final MVP.
Sevenoaks have now completed a trophy double for two successive seasons after winning the WBBL Trophy and Play-off crowns last season.
Leicester, who took the Trophy this season, were hardly noticeable in a one-sided first half, allowing their opponents too many second chances to score and showing little appetite for rebounding.
Carr took full advantage of that, hitting 15 points in her team's 33-15 first-half lead.
"In the Trophy final we came out very flat and we struggled and ever since then we've had a whole new focus." Carr said.
"We were looking forward to getting here and we wanted to play Leicester and we executed perfectly."
Although Leicester reduced the lead to 15 points in the third quarter, the Suns continued their rebounding domination to extend the lead to 22 (54-32) at the end of the third quarter on their way to an unexpectedly easy win.
Leicester head coach Krumesh Patel said: "I think they did a great job of putting us out of our rhythm early on and we just couldn't catch it after that. We need our scoring to push us a little and that didn't come."